Christmas is a magical time of year. Excitement and joy are in the air, fairy lights and tinsel give everything a glorious sparkle, and the sweet aroma of cinnamon warms the soul. No matter how you celebrate the Christmas season, you are sure to be feeling a generosity of spirit, This is the time of year to treat the wonderful people in your life, including the special women – your sister, mother, grandmother, aunt, or best friend. It can be stressful finding the present that is just right, but you need to look no further, as we have the best Christmas gifts for her, you could hope for.
Luxurious, indulgent, and yet with a budget for everyone, there is sure to be a Christmas gift basket for the special woman in your life, no matter their personalities and preferences. Maybe they have a fondness for Christmas cookies, can't get enough of tasty snacks, or are always on a health kick, no matter the personal taste, we will have the perfect Christmas gift for her.
Our Christmas gift baskets are beautifully presented, and with their gourmet touch, they are the perfect Christmas gift for sharing,...if you're feeling generous. Whether your loved ones live close or are far away, they are sure to appreciate a delicious Christmas present, made and gifted with love. With a guaranteed delivery in time for the special day, these Christmas baskets will blow those novelty socks out of the water. Be prepared this holiday season and load up on these great Christmas gifts for the women in your life.
For the Christmas Fanatic
We all know someone who is preparing for the next Christmas as soon as a new year starts. They stock up on little bits and pieces all year round, to make sure everyone has the most perfect Christmas possible. Well, why not make her Christmas a little more special with a luxurious gift basket.
Ultimate Christmas Gourmet Gift Basket
Not only will the Christmas fanatic love all the season goodies in this gift basket, but it will also take just a little bit of the pressure off. They will be able to put their feet up and enjoy some tasty treats, without having to visit a dozen stores picking up a wide selection. Perfect for a big family the Ultimate Christmas Gourmet Gift Basket features a stunning array of Christmas themed snacks and beverages that the whole family will love to dive into following Christmas lunch, curled up in front of 'A Christmas Carol'.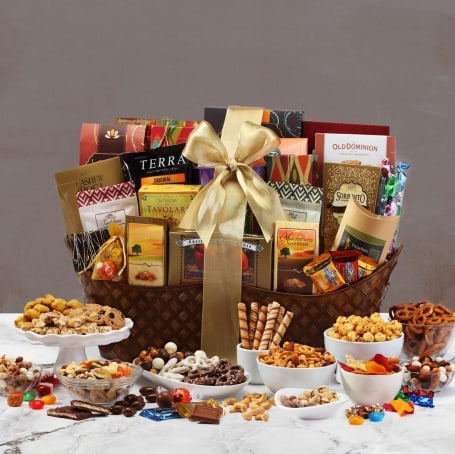 Highlights of this gift basket include caramel apple kisses, Lindt truffles, a variety of flavored pretzels, an addictive seasonal snack mix, and for the person who likes a little salty and sweet, delicious honey mustard nuggets. Plus, is there anything that says Christmas more, than a hot cup of cocoa and some delicious chocolate chip cookies? Every square inch of this basket is crammed full of delicious holiday treats, it is sure to make the face of the Christmas fanatic light up brighter than 1,000 fairy lights.
For the Sentimental
Is there a special woman in your life that gets all misty eyes at 'It's A Wonderful Life', even though they watch it every year, then we have the best Christmas gifts for her. Make the sentimental and caring woman in your life, bust with love with one of our Christmas baskets that have the personal touch.
Christmas Chocolate Photo Gift Box
Everyone loves chocolate, and it can be made even sweeter with the addition of a stylish photo frame featuring pictures of the people you adore. The Christmas Chocolate Photo Gift Box offers just this – a delicious array of chocolate, housed in a sturdy mahogany gift box, which has 5 compartments for photographs on the lid. It makes for a sugary, sweet Christmas gift, and that is even before they open the box and see the delights inside.
The lucky recipient can swoon over the pictures of her beloved grandchildren, children, or friends, whilst they tuck in the dark and milk chocolate treats of extreme quality. Soothe and silky, the milk chocolate Bavarian pretzels will be delightful with a hot chocolate, or the deliciously dark Graham crackers will complement a glass of full-bodied red wine in the evening after all the hard work of Christmas is over.
Pure Bribery Holiday Photo Gift Box
The Pure Bribery Gift box features the same sentimentality with the photo frame box, but a different selection of sweet treats for those who inexplicably don't love chocolate.
Instead, it features a wonderful array of soothing hot drinks including Bellagio Chocolate Truffle Hot Cocoa and Organic Lemon Ginger Tea, along with yummy toffees, chocolate chip cookies, and deluxe caramel popcorn.
For the Health Nut
Whilst many of us use Christmas as an excuse to eat everything in sight and indulge of the finer things in life, there are a few women out there, who never pause their healthy living lifestyle, even for Christmas. So what can you get the woman, who would rather hit the gym, than hot the sofa for a Christmas movie marathon? Well, believe it or not, we even have the perfect Christmas gift for her, that won't sabotage her healthy lifestyle.
Heart Healthy Floral Dried Fruit Gift Tray
There is such a misconception that healthy food has little taste. Well, this Christmas gift basket will blow all of these misconceptions out of the water. The Heart Healthy Floral Dried Fruit Gift Tray features a beautiful arrangement of sweet and scrumptious fruit, that is not only tastes of pure sunshine, but is also good for you. Whilst the rest of the family enjoys a handful or two of salted nuts, the health nut can nibble of the freshest of dried fruits.
Presented in the shape of a beautiful flower, this fruity delight features prunes, apples, kiwi, plums, pears, cranberries, and apricots. It is the perfect selection for the health nut in your life, to pop in their backpack for a long afternoon hike after the Christmas dinner. The beautiful natural treasures from any of our Christmas fruit baskets are sure to be a welcome change from endless stodgy food in the days following Christmas Day.
Large Fresh Fruits and Flowers Gift Basket
Those who prefer their snacks on the health side will definitely appreciate any of our fresh fruit gift baskets. The Large Fresh Fruits and Flowers Gift Basket has the best quality seasonal fruit, and a potted red poinsettia plant, which will look great as a centerpiece on the Christmas table. Furthermore, the top quality basket can be used over and over again, whether for fruit picking, or picnics etc.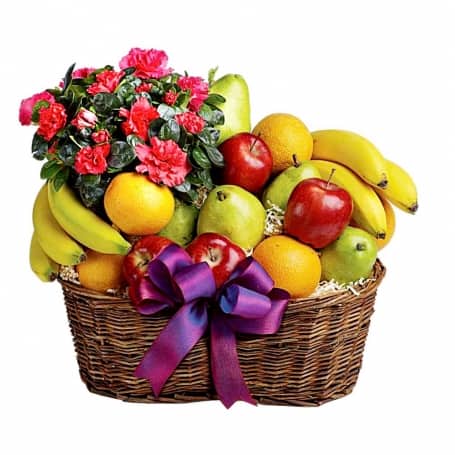 Although we all love the chocolate delights and sweet treats that abundantly available at Christmas, a refreshing piece of fresh fruit, is likely to make a welcome change. You could chop up all the fruit and serve a giant fruit salad to all the family on Christmas morning.
For the Foodie
There are many different levels to the foodie. They could be a fan of all things organic, be all about presentation, or just find a great deal of joy from food. No matter the taste of the foodie in your life, it is a safe bet that we have the perfect Christmas gift for her. Food is one of the major components of the Christmas season, with families gathering around a table to enjoy a feast and each other's company. A special occasion and a special lady certainly deserves a special foodie gift.
Premium Holiday Gift Tray
Not only do the gourmet treats in the Premium Holiday Gift Tray look phenomenal and luxurious, they will taste even better than they look, satisfying even the most discerning foodie. Looking almost too good to eat, they will not know which delicious bite to try first.
Will it be chocolate covered almonds or cherries, or perhaps the stunning holiday peppermint chocolate nut bark, or our absolute favorite, the chocolate covered blueberries. You might struggle to get the foodie to share these tasty little bite-size pieces, but you can hardly blame them.
Towering Heights Holiday Gift Tower
Guarantee you get the share in the joy of the foodie's Christmas gift, with the epic Towering Heights Holiday Gift Tower. Featuring five towering boxes of delicious delights, there will surely be enough to go around during the annual Christmas game of Monopoly.
There is something for the whole family: blueberry Greek yogurt cookies for the kids and cappuccino chocolate chip cookies for the grown-ups, and gourmet popcorn for the late night film watcher, and even a crème Brulee sweet mix, for the foodie herself.
For the Student
The student will need an extra sugar boost for all those long nights studying for important assignments and finals. We have the perfect Christmas gifts for the student in your life, which will be the perfect reward for all of their hard work throughout the year.
Wooden Desk Caddy Gift Basket
The Wooden Desk Caddy will be the perfect companion for a student over the Christmas break. Not only will they have lots of tasty treats to keep their energy levels up, but also a quality wooden desk caddy that can be used to store all the student essentials, useful for keeping things organized. But, to make use of the desk caddy, all the delicious treats will need to be devoured and enjoyed.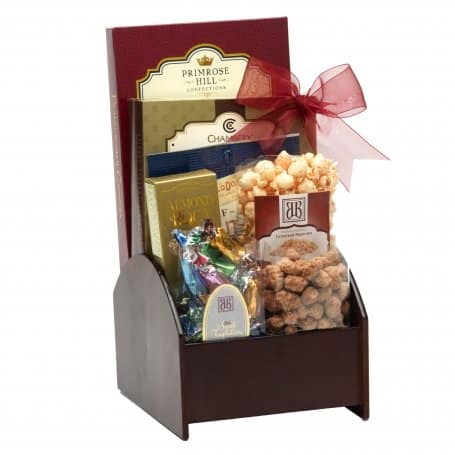 Almond pecan popcorn makes the perfect snack for reading, peanut squares will provide the reserves for an all-night study session, and the chocolate crackle cookies will be the perfect reward after a long day of study.
Always in Time for Christmas
We know you will want your gift to arrive in time for Christmas, so when you pick a nominated delivery date with us, we guarantee it will be with you then. There will be no disappointed faces under the tree when you order Christmas gifts with us. So, if you are looking for a special Christmas gift for the beloved women in your life that can be enjoyed long after the big day is over, then look no further than one of our luxurious Christmas gift baskets.