Weddings are a time of such great joy. There is rarely anything as beautiful as seeing two people who love each other promise to share their lives together. It is such an honor to be asked to share in such a happy occasion with the betrothed and being able to celebrate their love. Show how grateful you are to be involved in a day that you will never forget, by gifting them the best wedding gift there is.
Broadway Basketeers have a wide range of love-themed gifts that will perfectly match the mood of a beautiful wedding, whilst giving the newly-weds something that they can really enjoy together. Our unique wedding gift baskets are full of delicious treats, or premium spa goods that will be best enjoyed the day after the wedding when the happy couple can have some much-needed relaxation.
We have a wide range of unique wedding gifts that will be sure to express all of your best wishes and love to a special couple in your life. Here are a selection of our love-filled favorites.
Belgian Chocolate & Caramel Pretzels - $32.95
We have some great wedding gifts that really do spread the love on the day a couple will never forget. A chocolatey treat that is bursting with love is a much more original wedding gift than the standard toaster and certainly will taste so much better. Our Belgian Chocolate and Caramel Pretzels are so romantic, featuring hearts, and bride and groom decorations, as well as oodles of edible heart confetti. They may look too good to eat, but when the happy pair tastes one, they will soon get through the full box as they spend their first day as a married couple.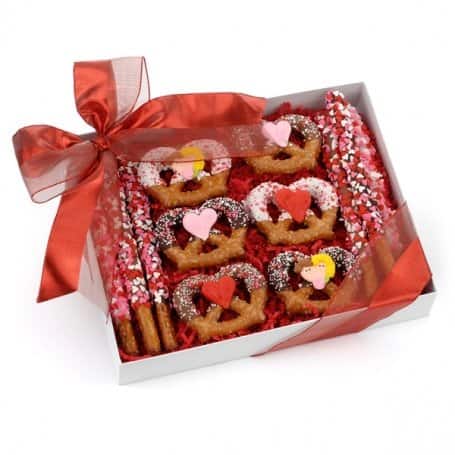 This beautifully presented wedding gift box features half a dozen each of Bavarian pretzel rods and Bavarian pretzel twists, which have been hand-dipped in the smoothest Belgian dark, white, and milk chocolate, along with sweet golden caramel. They have been finished by skilled confectionery artisans with stunning candy and royal icing decorations, for a delicious sweet treat that tastes as good as it looks.
Lavender Ultimate Spa Gift Basket - $99.95
A wedding is the best day of a married couple's lives, but it is also a really long and eventful day that can be absolutely exhausting. After a long day of mingling, dancing, and emotions, there is probably nothing more than the couple want to do, is to spend a few days relaxing in each other's company, before they jet off on honeymoon. This makes the Lavender Ultimate Spa Gift Basket the perfect wedding present, as it filled with luxurious goodies, perfect for a relaxing pamper day after all the wonderful craziness.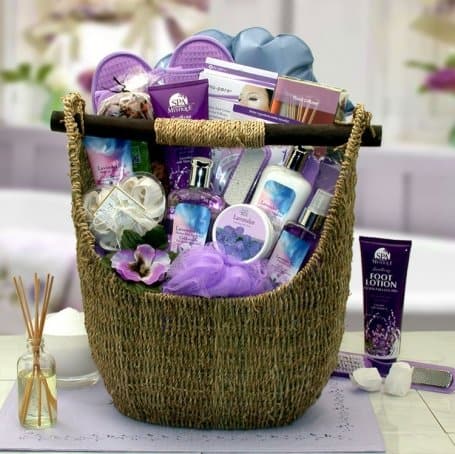 This spa package gives the gift of relaxation, featuring all the products needed to unwind and take some time out. Within the gift basket are some full-size products with calming lavender fragrance, including soothing bath salts, nourishing body lotion, moisturizing foot lotion, facial eye pads, and a room diffuser with reeds to help create a relaxing ambiance. The basket also features the tools to create the ultimate pamper session, such as a relaxing bath pillow, bath loofah ball, pedicure set, and some super soft terry cloth bath slippers.
Towering Heights Thinking of You Gift Tower - $42.95
Any of our tower of treats makes a spectacular statement, featuring stunning decorations and all wrapped up in a bow. The Towering Heights Thinking of You Gift Tower will look magnificent on the gift table at any wedding – the newly-wed, with even the greatest of willpower will find this magnificent wedding gift difficult to resist. The high-quality snacks within this amazing tower include a decadent crème Brulee sweet mix, almond Roca, salted caramel pretzels, gourmet popcorn, and cappuccino chocolate chip cookies.
The five stacked gift boxes are beautifully decorated in the classic wedding colors of white, silver and gold, which can be re-used around the home as a constant reminder of the best day of their lives. Any of our towers would make a wonderful wedding gift, and don't forget we have plenty of wonderful wines available that would make the great accompaniment to all of the tasty treats. What better way to commemorate their wedding than to chill out with some candles and plenty of delicious delights that they so deserve.
Wedding Cookie Bouquet - $49.95
Flowers are certainly beautiful, but the only floral bouquets at a wedding should belong to the bride and her bridesmaids. However, there is one bouquet that you can bring to a wedding that will be sure to go down a treat. Our Wedding Cookie Bouquet is such a fun and original wedding gift that it will bring a smile to the faces of everyone who sees it and delight the taste buds of the bride and groom.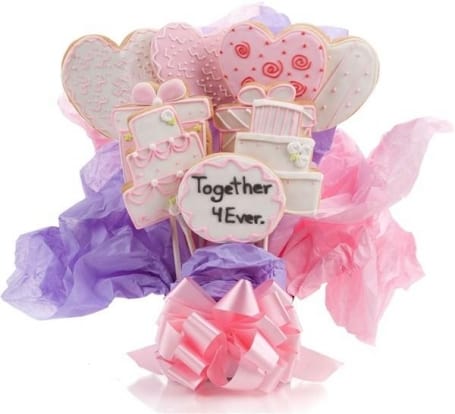 The gorgeous looking bouquet is beautifully wrapped up in gorgeous pastel colors and features 9 handcrafted cookies that are so yummy. Each cookie has been decorated by hand with sweet royal icing, with a number of wedding-related designs, such as hearts, presents, and wedding cakes. The cookies will be delivered individually wrapped and packaged carefully so they will arrive fresh, delicious, and in one piece.
Heart Sprinkles Chocolate Dipped Oreos - $24.95
Is there anyone in the world who doesn't love Oreos? They are delicious dipped in milk or dunked in a steaming hot cup of cocoa, but did you know that they also make an adorable wedding gift? Here at Broadway Basketeers, we have elevated the humble Oreo into a beautiful gift that will be so perfect for the cute couple in your life. They can tuck into them for a completely sinful 'morning after the wedding' breakfast, joined by a big glass of leftover champagne.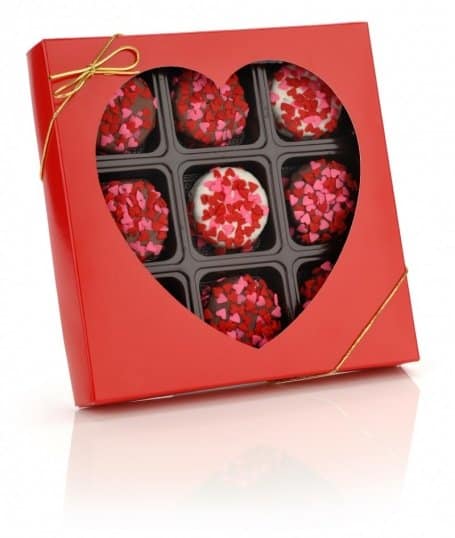 These scrummy Oreos are drenched in your choice of chocolate – we use only the finest Belgian chocolate, so whether they like white, dark or milk, you can be sure that it will be sweet and creamy. They are sprinkled with love in the form of cute candy hearts – perfect to symbolize all the joyous love on a wedding day, don't you think? The chocolate dipped Oreos are beautifully presented in a heart-shaped box, finished with a gold ribbon.
Chocolate Mousse Love Cake - $49.95
Why not take some of the financial burdens away from the betrothed by offering to buy some desserts for the reception meal. Our Chocolate Mousse Love Cake will make a delicious dessert for a wedding party, because who doesn't love chocolate? The couple to be wed will really appreciate that you have splashed out on some of our deliciously rich chocolate cakes to treat their guests too, and it will ensure that you when they think back on their wedding day, you will always be one of the reasons why it was so special.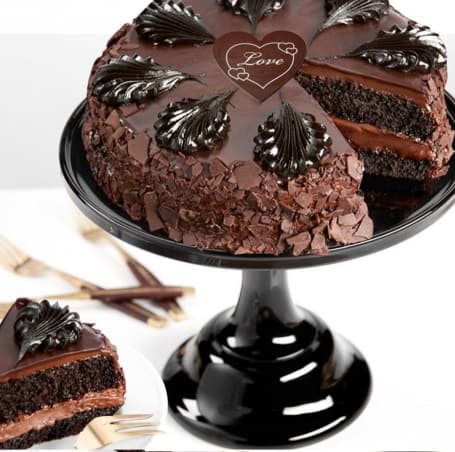 This indulgent dessert features two rich chocolate cake layers, filled with luscious chocolate whipped cream mousse, and covered with sweet milk chocolate frosting and a dark chocolate glaze. For a luxurious finish, the cake is decorated with dark chocolate shavings and fudge rosettes. A cake that has been handmade with so much love, is perfect to celebrate a day filled with romance, joy, and adoration. Will the guests be able to stick to just one slice?
Chocolate Bride & Groom Candy Apples - $32.95
Celebrate the fun and joy that the big day brings with a completely unique wedding gift that is sure to make the bride and groom chuckle in delight. Not only are our Chocolate Bride & Groom Candy Apples a little bit tongue-n-cheek, but they are also rather delicious. We start with fresh Grande apples, which are wrapped in a layer of rice crispy treats and then dipped in sumptuous chocolate. They are then hand-decorated by skilled artisans to resemble a bride and a groom.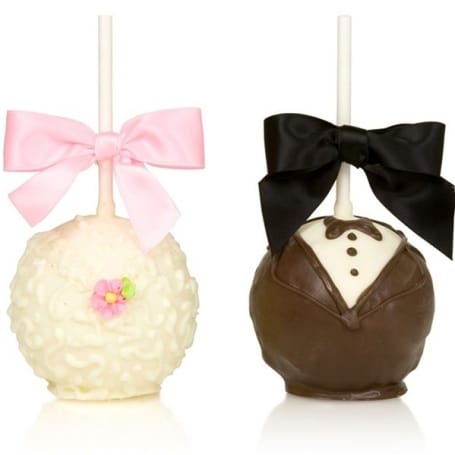 They would not only make an ideal wedding gift, but these cute candy apples would also make great wedding favors for bridesmaids and groomsmen. They certainly would make a great conversation starter if placed on the tables in reception, as well as being a totally yummy treat to enjoy when guests are taking a break from dancing.
Wedding Gifts Made with Love
Here at Broadway Basketeers, we have some of the best wedding gifts around, and they are all made with love and care. Our wide selection includes wedding gift baskets, romance-themed decadent treats, towers of gourmet snacks, and relaxation gift baskets filled with spa lotions and potions. Each gift is beautifully presented to show your appreciation and love for the happy couple, and we guarantee delivery to avoid any disappointment.
If you have any special requests for wedding gifts or wedding favors, please do get in touch as we aim to accommodate our valuable customers in any way that we can.