Welcome a Bundle of Joy with the Perfect Baby Gift
The new arrival of a baby is always a joyous occasion and sending a baby gift basket is the perfect way to show just how excited you are for the new addition. Pregnancy and the birth of a new baby is such a special time for new parents, and you can boost their happiness with a wonderfully packaged, thoughtful and useful baby gift. Here at Broadway Basketeers, we have a wide range of baskets, which would make perfect baby shower gifts, gifts for new moms, or gifts for baby girls or baby boys.
Our super cute and top quality baby gift baskets are all made with great love and will show the new parents just how much you care. Whether you live close by, or on the other side of the country, one of our baby gift baskets will be such a thoughtful and meaningful gesture that shows how much you are thinking of them. What better way to mark the start of a beautiful new adventure, than with a stunning gift basket that is full of new baby essentials, stunning flowers, or relaxing treats for a very tired but happy new mom.
We have a huge variety of new baby gift baskets, these are some of our personal favourites but don't forget to check out our full collection to see the wide range we have.
Playtime with Baby Wagon - $129.95
Nurture a child's spirit of play with a fabulously fun toy gift from Broadway Basketeers. The Playtime with Baby Wagon really does capture the essence of fun with a wide range of toys, and it will capture a little one's full attention with its bold colors and interesting shapes. This baby gift will really introduce the little one to the world of play, as well as helping them learn the likes of colors and coordination.
The fun toys are artfully stacked in the iconic Radio Flyer wagon – a timeless toy that will give a child years of enjoyment. Other toys include a rattle teether and several wonderful baby books that will be perfect for the first 18months of a child's life. Additional goodies include a cotton romper, fleece infant cap, and a play-themed gift tin that contains a number of baby essentials such as Johnson's Baby Lotion, Johnson's Baby Powder, and Johnson's Baby Shampoo. Plenty of fun, with plenty of useful baby goodies.
My Little Chickadee - $39.95
Whilst the arrival of a new baby is a momentous occasion, for the mother it can be quite taxing. She will adore her new bundle of joy more than anything in the world, but she is also sure to be feeling drained, tired, and very sore. She definitely deserves a gift to say well done, and thank you for bringing this wonderful new light into the world.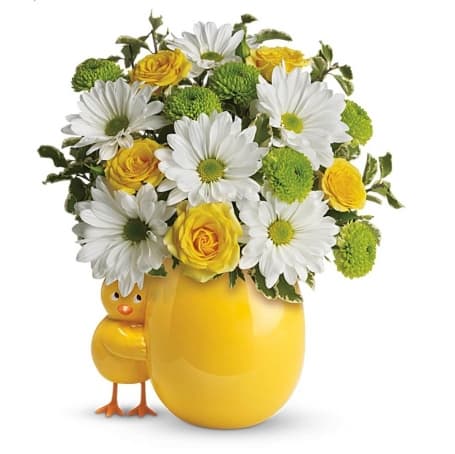 Our My Little Chickadee gift features a beautiful bunch of blooms, held in a super cute ceramic chick vase. The white daisies, yellow roses, and green chrysanthemums are just beautiful and will smell divine, and the sweet ceramic vase can be used again and again. This really is a wonderful delivery gift to show appreciation to a new mom.
Baby's Teddy and Diaper Caddy – Girl - $94.95
Our Baby's Teddy and Diaper Caddy makes the perfect new baby gift as it has all the essentials needed to start the magical journey into parenthood. The quality diaper bag features multiple useful pockets, that any parent - on the go or at home - will need to store all the essentials needed to change a wriggling baby, keeping them occupied in the process, as well as other baby goodies.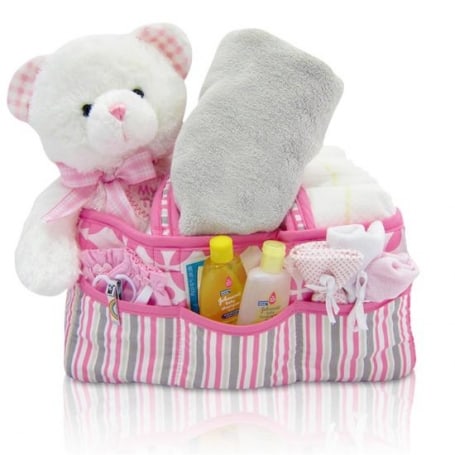 The diaper caddy holds a number of useful products to help see parents through, after all when it comes to a newborn, you can never have enough diapers, wipes, washcloths, and Johnson's Baby Powder. Other essentials include a baby manicure set, scratch mitts, Destin Diaper Cream, Johnson's Baby Bath, Johnson's Baby Lotion, and Johnson's Baby Shampoo, and a luscious satin lined baby blanket, perfect for lovely snuggles. Also included is 'baby's first teddy bear', which will be certain to become a treasured friend of the little munchkin.
Twins Welcome Wagon - $99.95
Are two new bundles of joy on their way? Twins certainly are a wonderful thing and deserve to be celebrated with a very special gift. our Twins Welcome Wagon will certainly be the perfect baby shower gift for the expectant mother of twins – it not only looks adorable but also features plenty of goodies that will make her life a little easier. Within the Radio Flyer Wagon there is two each of a plush elephant, travel blanket, rattle teething toy, and a gift tin, which includes scratch mittens and a manicure set. The Twins Welcome Wagon can be customized to include gifts for a boy and a girl, two boys, or two girls. Can't you just see the twins pulling each other around in the wagon as adorable toddlers?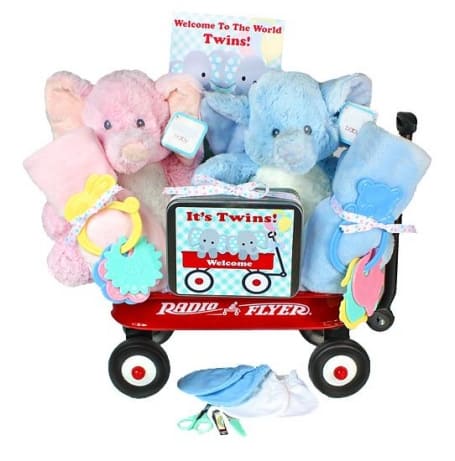 New parents of twins are sure to have their hands full, particularly in the first few weeks after the birth. So why not send one of our gourmet food gift baskets, so they will always have something delicious to snack on when they have a few precious moments of peace when both the little bundles of joy are sleeping.
Baby Boy Gift Basket - $42.95
Send a thoughtful celebration gift for the birth of a beautiful bouncing baby boy, that has goodies for both the baby and the parents. Our Baby Boy Gift Basket is the perfect gift to mark such a wonderful occasion, plus it contains plenty of indulgent sweet treats to give tired new parents the perfect burst of quick energy. There is no time when you are more deserving of sinful snacks than when you are a new parent hand have so little time to treat yourself. You wouldn't change your situation for the world, but you really will treasure the time when you can take ten minutes to put your feet up with a cup of coffee and one of the gift basket's milk chocolate Bavarian pretzels.
Other premium snacks in the baby gift basket include gourmet caramel popcorn, Tavolare snack mix, chocolate hazelnut wafer rolls, Old Fashion peanut brittle, assorted flavors of Ghirardelli squares, assorted milk toffees, and soft vanilla caramels. To help the little one nap peacefully so parents can enjoy the snacks, there is a snuggly teddy bear with the softest fur. Finally, there is a cute mini picture frame for a picture of the new baby, either for the parents to keep, or even to gift to a loved one.
Nap Time Baby Basket – Girl - $89.95
Give new parents the gift of a peacefully sleeping baby, with the Nap Time Baby Basket. The pretty willow basket is full of goodies that will help baby have a good nights sleep, or a delightful nap full of sweet dreams. This baby girl gift basket features a nap time plush teddy bear, a super soft baby blanket, adorable and snuggly baby booties, and a cotton bodysuit and cotton onesie for napping in supreme comfort.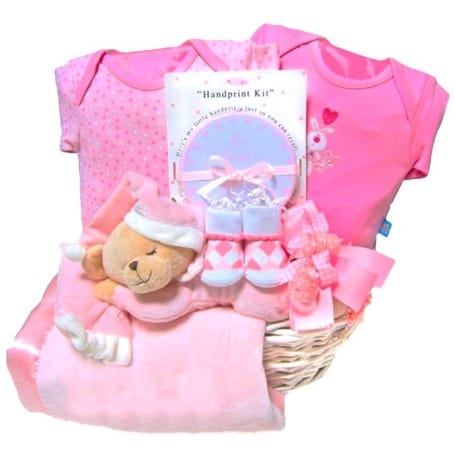 Also included is a handprint tin, which contains a kit for making handprints of your little bundle of joy. This is obviously best saved for when the little one is napping, so they can't wriggle and roll away.
Touch and Discover Deluxe Gift Basket - $159.95
Here at Broadway Basketeers, we have a wide selection of educational gifts which would be perfect as birthday gifts, or something a little different for a baby shower. The Touch and Discover Deluxe Gift Basket consists of a large keepsake tin that is filled with wonderful toys and books for the baby or toddler to play with. Little ones can hug onto the Baby Einstein Melody maker Musical Plus, whilst reading their Baby Einstein Look & Find giant board book, colors and shape touch & feel board book, hide and seek words board book, and the playtime tabbed board book, amongst others. When it comes to bath time, play and learning can continue with the bath time touch & feel board book.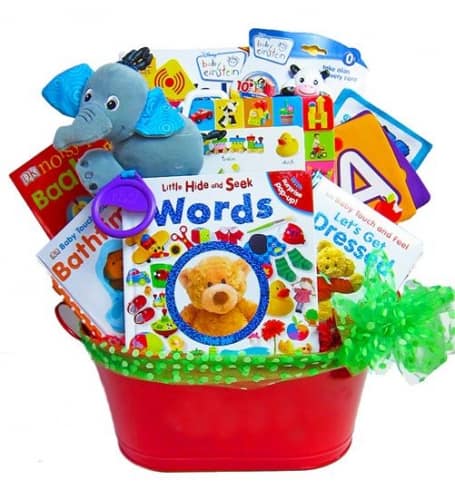 With this educational gift basket, there is so much fun to be had for little ones and parents. They will learn and they will laugh, making lots of wonderful memories. The quality keepsake tin can be re-used in a number of ways, such as storing diapers, cuddly toys, muslin cloths, or any other clutter that is inevitable when you have a baby.
Baby Gift Baskets Made with Love
Here at Broadway Basketeers, we know how precious babies are, and therefore we only use the finest quality products in our baby gift baskets. We will only use goodies and toys made with super soft materials, and premium baby care products from brands that can be trusted. It is our mission to help you show new parents just how appreciative and proud you are of them, for bringing this new life into the world.