Possibly the most loving and chocolate-filled holidays, Valentine's Day is a time for giving gifts and special attention to the people that matter most in your life. You can show someone how much you care, how much they were on your mind, or simply that you know their favorite things just by finding the right unique gift for them.
Reading that and doing that, however, are two very different things. It can seem somewhat daunting, even, when you're faced with all the gifts available on the market for this holiday, which is exactly why Valentines gift baskets become an excellent solution. Personalized with a special message and hand-delivered straight to their door, it's easy to give a unique gift to anyone.
We're going to dive into the 2019 Valentine's Day buying guide, filled with a comprehensive list of various gift baskets, cakes, bouquets, and much more that can match anyone's personality. We'll also cover how to add a personal touch to the gift basket to make it extra special, how to make sure it's delivered on the day you want it, and the types of gift trays, baskets, and towers on the market to choose from. Broadway Basketeers always aims to provide an unbiased, honest guide that you can use as fuel to find the perfect Valentine's Day gift for any recipient you'll be shopping for.
Tips for Finding the Best Valentine's Day Gift
Picking the best Valentine's Day present isn't easy, especially for the particularly picky ones in your life that already have just about everything you might buy for them. Someone that has everything they need can enjoy something from Broadway Basketeers all the more, though they can still walk away with evergreen items they can still get utility out of – a win-win situation.
Romantic or Platonic?
The first thing to narrow down is if this is going to be a gift for a family member, friend, or client, or if it's going to be for a romantic interest instead. There are both options available, it just makes it easier to decide on a present.
Find Out What They Like
If you don't already know what they like, find out! Are they a fan of sweets, do they prefer chocolates or fruit-flavored candies? Are they more into salty treats and savory goodies that they can't find anywhere else? Are they more of a wine lover, or maybe they prefer flowers instead of a food item?
Really ponder over what they'll prefer out of a gift, so you don't, for example, make the mistake of getting someone who's not a fan of chocolates a big gift basket full of chocolates. Simple things like this can make the present mean so much more – plus, they'll be able to get real use out of it instead of just appreciating the gesture.
Types of Valentine's Gifts
While the main two types of Valentine's Day presents are between romantic or platonic, there are some broader categories that branch out underneath the two. There are gifts fit for your romantic partner, but gifts also fit for your young child, grandparent, or even a client you're trying to retain.
We'll examine all these types of gifts to give, look at examples to give you a better idea of what kind of Valentine's Day gift options you have available, and list a variety of different choices so you can make your own informed decision on the matter. You don't want to be limited to one present or one type of present, which is why Broadway Basketeers aims to offer so much variety in their products.
For Her
There's plenty of romantic gifts for her at Broadway Basketeers that can fit the bill for Valentine's Day, but we have a few tried and true favorites that, in a way, go above and beyond that of a normal holiday gift. For this holiday centered around love, we don't just focus on the gift baskets, trays, and towers. Instead, we also offer pies, cheesecakes, regular cakes, bouquets of arranged flowers, and much more.
There are many options to choose from – so many, in fact, that we've only picked the most popular options for this list so you can just get a glimpse at what you can do for your special lady.
Valentine's Day Gift Tower
Though you can send this with platonic love to anyone, it's a thoughtful gift to send to her. Featuring a teddy bear she can keep with a big heart balloon that reads, "I love you," the tower consists of five boxes, each one bigger than the last. Each level of the tower contains lots of hidden treats and goodies, and she'll be delighted to get this delivered straight to her front door to add an extra tier of romance and surprise.
The Valentine's Day gift tower includes:
• Milk Chocolate Covered Bavarian Pretzels
• Lindt Truffles - Assorted Flavors
• Soft Caramel Apple Kisses
• Sweet & Savory Snack Mix
• Blueberry Greek Yogurt Cookies
• Chocolate Covered Cashews
• Ghirardelli Squares - Assorted Flavors
• Stuffed "I love You" Teddy Bear
Deluxe Spa Basket for Her
Let her soak down to her bones in the most relaxing home spa bath she'll experience. This deluxe spa basket contains many bubble baths, relaxing dips in the tub, and other tranquil-inducing items. She can feel truly at home when she sits back and uses these items to clean and then moisturize the skin, making it soft and aromatic. Utilize the aromatherapy candle to feel at peace and use the slippers and bath gloves even after the other items have been used up.
Valentine's Day Garden Bouquet
Even if you don't have time for a romantic walk through a gorgeous garden, you can help her take the garden with her using the Valentine's Day Garden Bouquet. Perfectly sweet, naturally scented, and bursting with vibrant color, this bouquet will certainly put a loving memory in her mind.
For Him
There's a perfect Valentine's gift out there for the man in your life, and you can probably find it at Broadway Basketeers. The range of gifts available, from engraved wines to decadent chocolate arrays, along with the stellar delivery times, has people coming back for repeat orders around the gift-giving season.
There is a variety of Valentine's Day presents designed just for him. Ideal for men any age and of any relation to you, these gourmet treats, quality wines, and savory snacks ensure they'll be able to enjoy Valentine's day of love just as much as their partners.
Herzog Cabernet Wine Gift
There's nothing more classic than a simple, gourmet cabernet wine that he can enjoy throughout an evening. Featuring a variety of wine accessories and topping off with a gorgeous mahogany wine box, this wine gift set is fit for a king. We can even personalize the gift further for you – there is an Engrave Your Bottle option that you can enable to add an extra touch to an already touching and thoughtful gift.
The Herzog Cabernet Wine Gift includes:
• One Mahogany Wine Box
• Four Wine Accessories
• One 750ml Herzog Alexander Valley Cabernet Sauvignon
Valentine's Day Gift Basket
Women aren't the only ones who deserve teddy bears and gift baskets for Valentine's Day – some gift baskets are fit for everyone. The Valentine's Day gift basket from Broadway Basketeers offers a wide selection of different gourmet treats. Any man with a sweet tooth will cherish getting their hands (and teeth) on this delicious gift basket.
It doesn't stop at tasty snacks, though. The Valentine's Day Gift Basket, in total, includes:
• Ghirardelli Chocolate Squares - Assorted Flavors
• Lindt Truffles - Assorted Flavors
• Pirouline Chocolate Hazelnut Wafer Rolls
• Gourmet Caramel Popcorn
• Chocolate Brownie Crisps
• Chocolate Covered Almonds
• Soft Vanilla Caramels
• Milk Chocolate Bavarian Pretzels
• Stuffed Teddy Bear
Family Gifts
Oftentimes, families have their own Valentine's traditions that are centered around one of the purest forms of love there is – the love between a parent and a child. Gifts for your children or even the whole family this Valentine's Day haven't been forgotten. We've gathered the most popular items we have that a family or child can enjoy tremendously.
Beloved Chocolate Photo Gift Box
This photo gift box offers more than just sweet chocolate – it offers sweet memories that can stand the test of time. A mahogany wooden gift box, it's lined with gentle felt that's soft to the touch. A five-compartment window is built into the top of the box, providing a window lid section for you to place your most precious pictures and moments.
The decadent chocolates that accompany the cherished memories include a range for the whole family to try. Measuring 9 by 7.5 by 3 inches, the box is not huge in presentation, and can be stored away for the memories to be cherished and passed on.
The Beloved Chocolate Photo Box gift set includes:
• One Mahogany Wooden Photo Box with a Five-Compartment Window for Pictures
• Milk Chocolate Bavarian Pretzels
• Brown & Haley Almond Roca
• Milk Chocolate Graham Crackers
• Dark Chocolate Graham Cracker
Corporate Gifts
An excellent way to demonstrate how valued someone in your life is to you is with a gift. This is relevant any time of the year, but Valentine's Day has always gotten left behind. Instead of being just a romantic holiday, though, more people are becoming accustomed to the idea of platonic relationships, both on a friendship and business basis. These platonic relationships can still include gifts out of thought, which is exactly where a Valentine's Day gift might be relevant for them.
Whether you have a client you're trying to impress or retain, a coworker you want to give some extra thought to during this holiday season, or maybe you're just trying to get some brownie points with the boss, a Valentine's Day gift will go a lot further than you might think. Let's look at some appropriate gifts that would be acceptable in a business environment during the holiday.
Valentines Day Wine Gift Tray
Deep Dish Peanut Butter Pie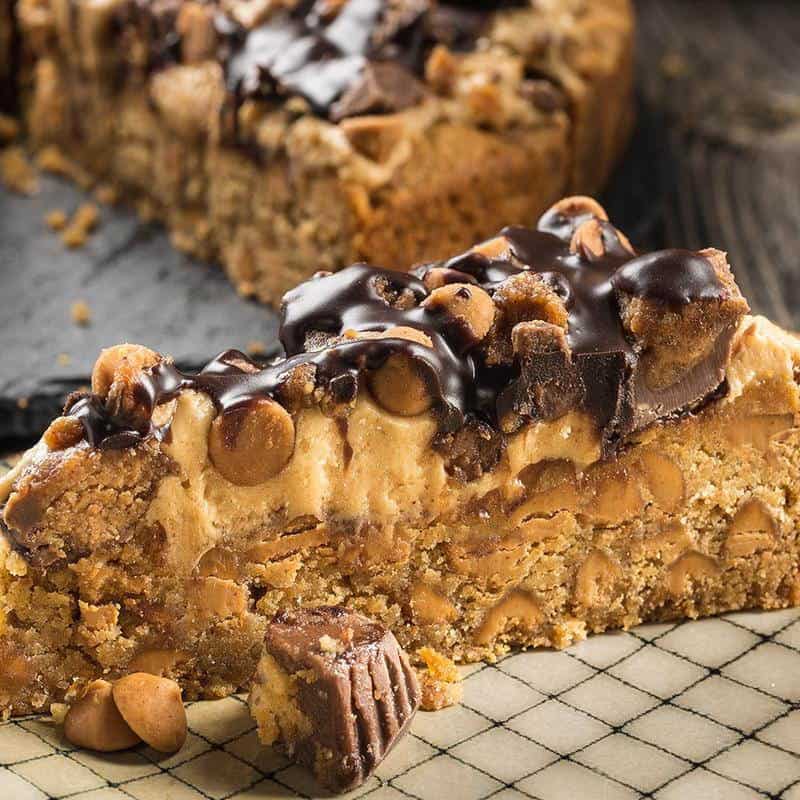 If the bourbon pecan tart pastry or the strawberry cheesecake deluxe sets didn't quite hit the mark for what you're considering as a Valentine's Day gift, take a look at the Deep-Dish Peanut Butter Pie. The richest, deep-dish cookie cake you'll ever sink your teeth into, this Reese's and peanut butter creation is generously and gloriously topped with Reese's brand Peanut Butter Cups, Reese's Mini Chips, and a chocolate drizzle to top everything off.
A genuinely delicious creation you won't feel like you've gotten enough of, this makes for an excellent gift for a client you're attempting to retain or even as a thoughtful gift for a coworker or boss. It measures about 10 inches in diameter, weighs around 4 pounds, and serves 16.
Wine Gifts
Offering a varies selection of quality, contemporary wine gifts for every occasion, Broadway Basketeers doesn't like to cut corners. We offer both Kosher and organic options, providing a wide selection of Valentine's Day wine gifts that will make the day truly special. Any wine lover can get joy out of the items on our list, so let's dive in to look at the top items available.
Premium Wine Basket
Help them celebrate Valentine's Day the right way with a gift basket that has it all – the salty snacks, the sweet and gourmet treats, and the wine to sweeten the evening! A delightful Spanish vintage red wine, it pairs perfectly with the various chocolates and chocolate covered fruit in the basket. It also washes the popcorn and mixed nuts down nicely, featuring notes of cherry that dance across the tongue.
The Premium Wine Basket includes:
• Triple Play Popcorn
• Butter Toffee Mixed Nuts
• Sorrento Cocoa
• Cashew Roca
• That's It. Chocolate Covered Fruit
• Ghirardelli Chocolate Squares
• Dilettante Chocolate Truffles
• Chocolate Pecan Caramels
• Ramon Cardova Rioja red wine
Carino Wine Gift Tray
If you know that special someone you're sending this gift to won't fancy a gift basket, you might consider trying a gift tray instead! The Carino Wine Gift Tray is a reusable wooden serving tray topped with gourmet delights, savory goodies, and a decadent quality wine that speaks volumes. The semi-sweet red complements the roasted nuts, truffles, chocolate drizzled pretzels, and other gourmet treats perfectly.
The Carino Wine Gift Tray includes:
• Ashers Dark Chocolate Truffles
• Ashers Chocolate Covered Caramels
• Dilettante Chocolate Truffles
• Snappers Chocolate Drizzled Caramels and Pretzels
• Cinnamon Toasted Almonds
• Pistachios
• Carino Semi-Sweet Red Wine
• Wooden serving tray
How to Add a Personal Touch to Your Valentine's Day Gift
With every purchase, Broadway Basketeers offers a customized, personalized card as a gift message option. That means every gift basket, tray, tower, or other items you send out to loved ones, coworkers, clients, friends, and family will all be unique and personalized to that individual. It adds to the magic of the holiday and really shows you put in just a little extra thought towards the gift.
The "Gift Message" section will come up after you're in the Checkout screen. You'll add all the gift baskets you want to the cart, hit Checkout, then enter in your shipping address and select your preferred delivery date. Once those sections are completed, the "Gift Message" section will be unlocked, allowing you to personalize the gift to your discretion.
You can get ideas for a personalized message through popular messages people often send. Once you know what to write, write out the greeting for the message at the top, the actual gift message in the meat of the "Gift Message" section, and finally, your signature to top it all off. You can also add one free media message, meaning you can attach a voice recording, video, or picture to the gift message as well.
This personal touch you add to every gift basket is what makes the holiday so special. Broadway Basketeers tries to focus on individuality and personalization to give you the most out of your holiday gift-giving.
Handling Delivery
You'll notice there are multiple delivery options as you scroll through the gift baskets available with Broadway Basketeers. It's easy to order, then have it hand-delivered to whatever address you prefer at the delivery date you set. We'll tell you how.
How to Choose Your Delivery Date When Ordering
1. Hit checkout once you've added the gift tray, basket, or towers that you want to the cart. You'll be asked to either login or submit your email as a guest.
2. Input your shipping address and the "Delivery On" section will unlock.
3. Select "Choose a delivery date" and see which options are available. You'll also be able to see how much shipping will cost for each option.
4. Once you've found your preferred delivery date, select it and the "Gift Message" section will unlock.
5. Submit the gift message you want your recipient to read and you'll be taken to the next page for order review and payment.
Delivery Options
Free shipping is available for some products and for some shipping options. There are other shipping options that also help to take the hassle out of gift-giving. The following delivery options will be available, sometimes with or without free shipping also being available.
Economy
The gift is delivered within 6 days or ordering if "Economy Shipping" is selected as the preferred shipping option.
Standard
You choose the specific date you want the gift to be delivered to the recipient, though there may be an expedited fee depending on how close the date is. However, this expedited shipping fee will be specified for these dates before placing your order.
Express
This is our best AS SOON AS POSSIBLE kind of option. If you want the gift delivered as soon as humanly possible, express shipping is our ultimate expedited shipping option. Not available for all gifts, the shipping options will be specified before you place your order.
Conclusion
Whoever you aim to gift this Valentine's Day will love the thought you put into their personalized gift basket. Whether it's for your partner, a loved one, or someone else entirely, you can feel assured with how easy it is to order and have gifts delivered through Broadway Basketeers. From you making the choice to get them a gift from us to it being delivered fresh straight to their door, you can feel confident every step of the way.
Order your Valentine's Day gift with Broadway Basketeers today for gourmet baked goods, gorgeous bouquets, decadent chocolates, fresh desserts, and evergreen items that last like serving trays and wine bottle openers. Give them the gift of luxury – send them a gift basket.