If you know a family member, friend, work colleague, or neighbor who is unwell, recovering in hospital or has recently been diagnosed with an illness, sometimes it can be hard to know the best gift to get them.
You want something that shows you are thinking of them. You'll want to ensure it is something they can enjoy, and importantly something that will bring a smile to their face as soon as they receive it.
Just sending them a card isn't enough. It may bring a touch of joy, but you want to show a kind gesture and give a gift of goodwill that will leave a lasting impression and help them cope with whatever they are going through.
Take a look at our guide of the best get well soon gift baskets and make the perfect pick to show someone special that you're thinking of them during their difficult time.
Fresh Fruit Get Well Baskets
Everyone thinks of sending grapes to a friend or loved one in hospital, but to really make an impression what about a variety of fresh fruits hand delivered to wherever they are?
Nature's Best Fruit Collection
Our Nature's Best Fruit Collection get well gift basket is a one-of-a-kind creation put together by a local florist for classic presentation as well as promising the very best in delicious fruit.
The exact fruits will be decided by the local florist, but it could include pears, apples, grapes, oranges and much more.
Large Fresh Fruits and Flowers Gift Basket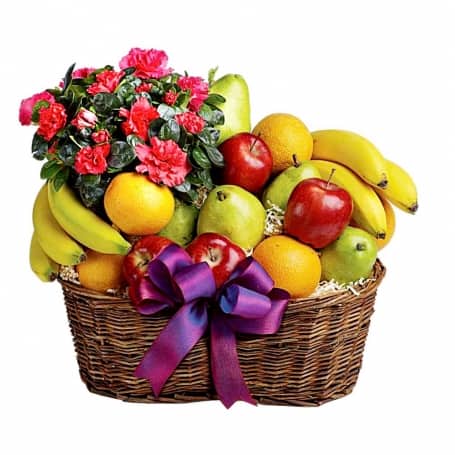 Our Large Fresh Fruits and Flowers gift basket includes five apples, five pears, six oranges, and six bananas and a potted azalea plant that's ready for planting indoors or outside.
The Orchard Fruit Basket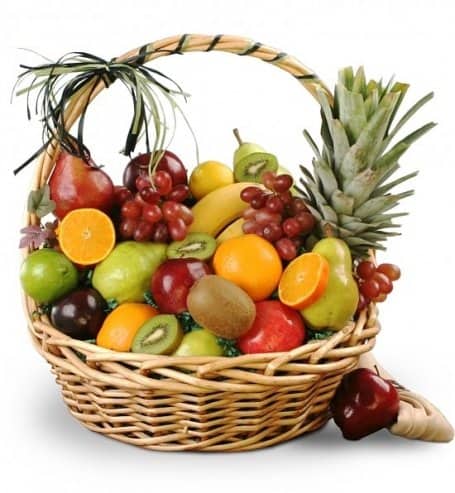 Our Orchard Fruit basket is packed with the very best in seasonal fruits and could include apples, oranges, bananas, nectarines, grapes, tropical pineapple, kiwi, mangoes, and pears. Everything will be hand delivered in an attractive wicker basket.
Fun Get Well Soon Gifts
Sometimes it's just the little things that can make someone smile just when they need some joy and laughter in their lives.
Bee Well Bouquet
Fresh and vibrant flowers are the perfect way to show someone you are thinking of them, even if you can't be there in person.
Our plush nurse bee is ready to buzz into action with just the right array of flowers to make anyone perk up, including sunny yellow sunflowers, yellow button chrysanthemums, alstroemeria, and white daisies.
Bee Happy Bouquet with Roses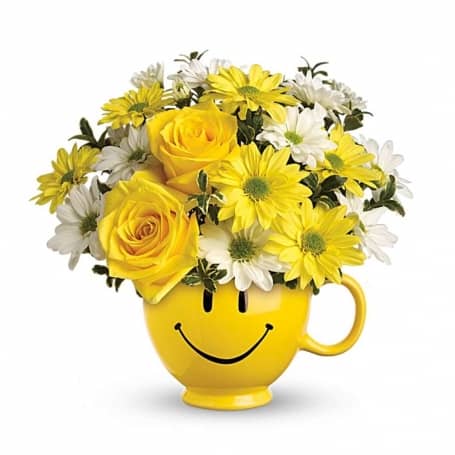 This is the best way to really make someone smile. The happy face mug of roses and daisies will be sure to do it.
Quick get-well gifts for a loved one with a sweet tooth
If you want to send get well wishes to a friend, colleague, or relative who you know has a sweet tooth, you can't go wrong with delicious pastries and cookies to make them happy when they really need some cheering up.
Double Chocolate Chunk Cookies
These cookies are dripping with deliciousness and really bursting with bags of flavor. No one can deny the happiness potential and the chance of smiles when it comes to huge chunks of Hershey's chocolate mixed into smooth and sweet chocolate cookie dough.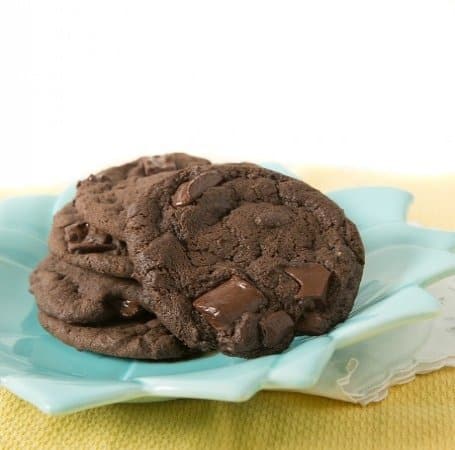 Now that's surely the best way to help make someone feel better.
Marble Truffle Cake
Tantalize their taste buds with our rich Marble Truffle cake. It is flourless, and no-sugar-added, topped with a layer of our delightful and delectable no-sugar-added cheesecake, then swirled with a bit of chocolate for the perfect finishing touch.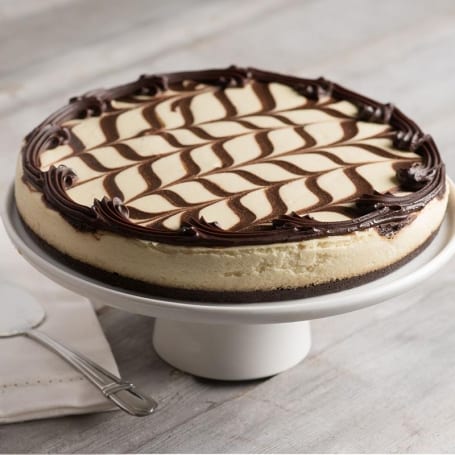 It's just the ideal mixture of rich chocolate balanced with creamy and fluffy cheesecake. There's no better way to show how much you care than with a sweet, sumptuous get well gift.
Get Well Gift Towers
When you really want to send your love and show someone how much they mean to you and how much you're thinking about them in their time of need, you want a gift that makes them smile. You also want them to invoke joy and excitement the moment they lay their eyes on your gift. You'll want them to enjoy it for as long as possible and continue to remember the amazing gift through great memories in the future.
There's no better way to do all those things than getting them a get well gift tower. Here are some of our favorites.
Grand Gourmet Gift Basket
Wow, this one is all about leaving a lasting impression. It's overstuffed, overflowing and about to burst open with sweet treats.
It's packed with wafer rolls, luscious treats and sweets, delectable salted-to-perfection nuts, gourmet chocolates, enrobed pretzels and plenty more.
Thinking of You Gift Tower
There really is no better way to show someone you care and that you're thinking of them right when they need it most.
The Thinking of You Gift Tower comes in beautiful and tasteful floral packaging and is packed full of the very best in tantalizing treats and delicious delicacies including Berry Cherry Trail Mix, Gourmet Caramel Popcorn, Soft Vanilla Caramels, Blueberry Greek Yogurt Cookies, Sheila G Brownie Brittle, and Assorted Milk Toffees.
Towering Heights Thinking of You Gift Tower
As soon as they set eyes on the Towering Heights Thinking of You Gift Tower they'll know. They'll know just what they mean to you. They'll know that you're thinking of them. And most-importantly you'll know just how much they'll enjoy this truly wonderous gift.
It's full to the brim of Salted Caramel Pretzels, Assorted Fruit Flashers, Crème Brulee Sweet Mix, Blueberry Greek Yogurt Cookies, Gourmet Popcorn, Almond Roca, Assorted Milk Toffee, Cappuccino Chocolate Chip Cookies, and Old Dominion Peanut Crunch.
Soaring Sapphire Gift Tower
This get well gift tower looks just as good as it tastes. It's elegantly packed meaning whoever receives it will love the beautiful gift boxes just as much as the magnificent morsels it contains.
Once they're finished admiring the stunning packaging they can start enjoying the Soft Apple Caramels, Yogurt Dunked Pretzel Twists, Shila Gs Brownie Brittle, Almond Roca Butter Crunch, Sweet & Savory Snack Mix, Gourmet Triple Play Popcorn, Mint Ice Cubes, Butter Toffee Peanuts that fill the inside.
Showing them just how much they mean to you
It doesn't matter where they are. If your friend, loved one or family member is recovering in hospital or getting over an illness far away from where you're based, you can still show them your love and how much they really mean to you.
Even if you're not able to give it to them in person, they'll understand, and they'll surely thank you for it the next time you see them. By adding a meaningful, personalized message you don't simply have to rely on the gift for them to understand how important they are to you, you can tell them directly.
Guarantee Delivery Dates for the exact time you need it
Do you want them to see the gift the second they get home after hospital? Is it imperative that the gift arrives on a specific day?
That's no problem. Here at Broadway Basketeers, we do everything to make sure your gift will be sent with love and arrive at the opportune moment. It's for this reason that we guarantee delivery dates when you pick a "chosen delivery date", when you checkout online.
Order Get Well Soon Gift Baskets on the go
You don't want your busy life to get in the way of showing your friend or loved one how much they really mean to you. And you don't have to.
With Broadway Basketeers you can use our website on your smartphone or other mobile device to order quickly, simply and in an extremely convenient manner. We'll help you do everything to make sure a beautiful and heartfelt get well gift basket gets to where it needs to be.
Remember, think about how you want your friend or loved one to feel. Think about how you want them to smile and the joy you want to bring to their life when they need it most. We know you'll make the right choice when it comes to the gift.