There are so many reasons to say thank you to someone. Maybe they have gone above and beyond to make an occasion special for you, perhaps they gave you some wonderful support through a difficult time, or maybe someone deserves thanks just for being themselves. It can be really difficult to know the best thank you gift that will show just how grateful you are.
When someone goes the extra mile for you, you want to do the same for them with the perfect thank you gift. When a simple thank you card just doesn't quite show how appreciative you are, why not send a stunning gift basket from Broadway Basketeers. Each comes with a personalized card so you can say in words how thankful you are, but they also feature top quality treats that are certain to be enjoyed.
Here are some of our favorite thank you gifts from our wide range of gourmet gift baskets. From healthy and wholesome, to sinful and sugary sweet, we have something for everyone, and with all products being kosher and with gluten-free options available, no one is excluded.
Assorted Rugelach
When the workers in your office deserve a thank you gift for a job well done, or you want to thank some clients for their loyal business, this delicious Assorted Rugelach will go down a treat. The traditional sweet pastry treats come presented beautifully in a gift tin, that can be easily handed around your grateful recipients.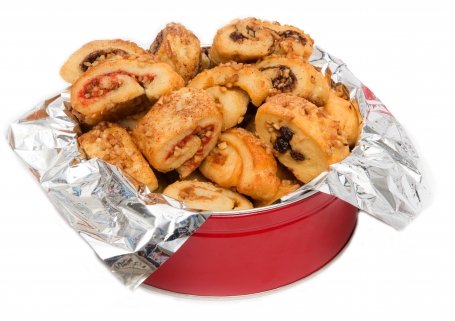 Gather around with some fresh coffee and share out the scrummy cream cheese dough pastries. With apricot cashew, cinnamon raisin, raspberry walnut, and chocolate walnut, there is sure to be a flavor that everyone will enjoy. There is approximately 32 rugelach in each gift tin, so this thank you gift basket will go a long way, but if you have a large office, why not splurge on a couple of tins so each member of staff can try a couple of different flavors.
Fresh and Floral Snack Attack Gift Tower
When a thank you card just won't cut it, show your love and appreciation in a grander way with the Fresh and Floral Snack Attack Gift Tower. Nestled inside the 6 boxes of loveliness is a range of delectable treats that will truly make the recipient feel valued. Your love for them will shine through as they tuck into the refreshing lemonade chews, enjoying a blueberry Greek yogurt cookie with a cup of Bellagio chocolate truffle cocoa, or snacking on any of the other tasty treats, such as the sweet and savory mix, gourmet caramel popcorn, and butter peanut crunch.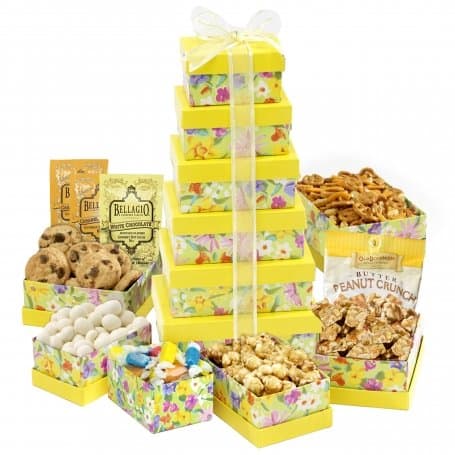 The six boxes that make up the tower feature a beautiful floral print, which can be re-used as home decorations or storage boxes that will brighten up any room. This is the thank you basket that keeps on giving – delicious treat after delicious treat, and a pretty way to store trinkets or box up a gift for someone else special.
Marble Truffle Cake
If you want to thank guests for attending an occasion or a party then there is no better thank you gift than a slice of our delicious Marble Truffle Cake. It will leave your guests with the sweetest of impressions, even though this tasty cake has no sugar added. Although this guilt-free cake has no sugar added it still has all of the taste, with a rich blend of smooth chocolate and a top layer of creamy and indulgent cheesecake.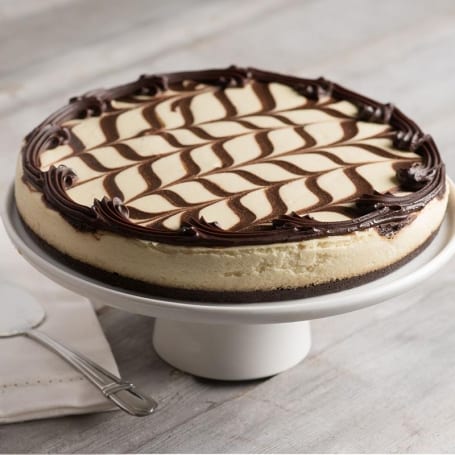 This beautiful dessert is also free of flour which makes it suitable for guests that have a gluten intolerance. Whether you serve this cake at your event or gift a slice for each of your guests to take home, they are sure to feel like their presence has been greatly appreciated. It will be a great little treat to enjoy with a cup of coffee or tea, and a lovely reminder of a great day.
Nature's Best Fruit Collections
Is there a more traditional way to say thank you, than a beautiful fruit basket? An array of stunning seasonal fruits really does make the best thank you gift – healthy, wholesome, and thoughtful. Nature's Best Fruit Collections features a range of locally sourced fruits artistically arranged by a skilled florist in a quality basket and finished with a pretty bow. Each Fruit gift basket will be completely unique and will come with a free gift card with your own message. A personalized thank you gift at its finest.
Each day the recipient can grab a piece of fruit to take for lunch and remember the thoughtful gift every time they tuck in. Perhaps they could make themselves and their loved ones a delicious fruit salad and share the wonderful natural goodness. Once all the fresh fruit has been devoured and enjoyed, the basket can be used as a beautiful display piece for flowers, or even taken on picnics, filled with sandwiches and cakes.
Token of Appreciation Gift Tower
Is there a special person that you appreciate having in your life every day? Do they always give you wonderful advice, bring you a tasty treat when you need cheering up, and make your life so much brighter, just by being in it? Perhaps you want to show how grateful you are for all that they have done for you over time, with a thoughtful thank you present. The Token of Appreciation Gift Tower will really show how much you care for someone, with the five beautiful gift boxes making an impressive visual impact.
The visually stunning gift tower features a wide range of sweet and savory snacks that will please even the most discernable of palettes. The oven toasted pita chips will be the perfect accompaniment to their favorite dip, making for the ideal movie snack. And for something, a little sweet there is the scrumptious soft vanilla apple caramels, crème Brulee sweet mix, peanut crunch squares, chocolate chip cappuccino cookies, and gourmet triple play popcorn.
Fresh Nut Mix Gift Tray
Put a big smile of the face of the nut lover in your life by sending them a 'thank you' they will adore with the Fresh Nut Mix Gift Tray.
Filled with only the highest quality nuts, guaranteed to arrive fresh, crunchy and oh so delicious. Sealed with a bow, the nutty gift features four types of gourmet nuts: mijou toffee cashews, gourmet health mix, salt and pepper pistachios, and smoked almonds. This really is a superb thank you gift for the person who loves to relax in front of the TV with a nutty snack.
Snackers Heaven Gift Set
Say thanks to a snack lover for being there for you, by sending them the ultimate foodie gift that will keep them snack happy for quite some time. The Snackers Heaven Gift Set will be the perfect indulgence for that person who just has to have a snack or two between meals, after meals, and before meals. Their taste buds will be tantalized with each of the sweet treats packaged in some classically chic gift boxes that can be re-used as stylish home decorations to store away nic-nacs and trinkets nice and tidy.
The recipient will struggle to know which snack to devour first with such a rich selection of delicious delights. The gourmet triple play popcorn can be shared between friends during a lazy Sunday afternoon movie; the chocolate chip cappuccino cookies are best enjoyed with a mug of steaming hot cocoa, and the Brown & Haley almond roca buttercrunch will provide a burst of sugar energy when that 4 o'clock lull hits. This tasty tower of treats also features yummy yogurt covered pretzels and awesome Old Dominion peanut crunch.
Thanks A Million
Here at Broadway Basketeers, we are dedicated to providing the best gift baskets possible when you want to say a big 'thank you' to friends, teachers, co-workers, clients, neighbors, family, or anyone else who has provided you with special support. Our thank you gifts are put together with great care and love, with quality products, both delightfully sweet and deliciously savory.
With a wide selection of gifts that will satisfy a wide range of palettes, we are sure to have the thank you gift you're looking for. All of our gifts will arrive on time and in perfect condition, so you won't have to worry about a thing. With Broadway Basketeers your 'thank you' is in good hands.