Thanksgiving is the national holiday where we commemorate the harvest festival held by our Pilgrim forefathers in 1621. On the fourth Thursday in November, we get together with our families and loved ones and sit down together for a traditional turkey dinner, maybe a slice of pumpkin pie, and a friendly game of touch football.
During dinner, we go around the table, with each of us sharing all the reasons we are feeling thankful for our lives and the people we share it with. Whilst meaningful words of thanks are a beautiful part of the holiday's tradition, a thoughtful Thanksgiving gift will also be very well-received. What better way is there to show appreciation for your friends and loved ones than by gifting them with a stunning Thanksgiving basket, full of delicious treats. Here are some of our favorite Thanksgiving baskets.
Best Wishes Gift Basket
Take some of the pressure off this Thanksgiving by treating yourself to the Best Wishes Gift Basket, which has over a dozen scrummy treats and snacks, meaning that no one will be going without. Everyone in your home is sure to be delighted with the wide range of snacks, whether they have a sweet tooth or prefer something savory. Highlights of this giant gift basket include the incredible smoked almonds, old-fashioned peanut brittle, milk chocolate Bavarian pretzels, and moreish gourmet caramel popcorn.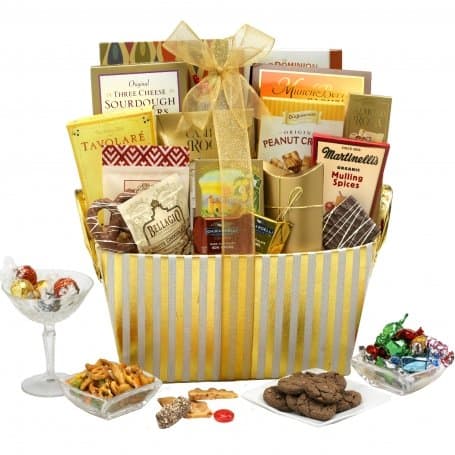 This fabulous gift basket will not only take the pressure off of Thanksgiving but also off the Christmas season that follows. This basket is bursting with seasonal goodies, such as the mulling spices that can be used to make some mulled wine on Christmas eve, or beautifully boxed up Lindt truffles that will make the perfect emergency Christmas gift, should you need one. Plus, the three cheese sourdough crackers will be the perfect accompaniment for a well-deserved cheese board once all the Christmas shopping is done. If you can wait that long to eat them that is.
Chocolate and Nut Collection
Thanksgiving is a time where we open our doors and welcome guests into our homes to share some quality time together, being thankful for each other's company. Whilst all your guests are waiting to break bread together around the table for Thanksgiving dinner, bring out the Chocolate and Nut Collection. The beautiful woven basket it a great gift idea for Thanksgiving guests, with its five generous compartments of delectable treats. The basket is of great quality and could be used as a desk tidy, or to store make-up once every morsel has been enjoyed.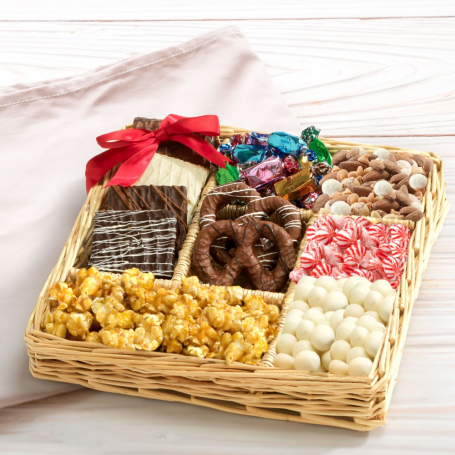 Bursting with snacks, but handy enough to pass around, it is perfect for guests to share, whilst stimulating conversation between those that may not know each other all that well. It is amazing how easily people can bond over some delicious treats shared together. The berry cherry trail mix or the sweet and savory snack mix will be the perfect way to build the appetite for the main event, whilst the assorted milk toffees, blue mint cubes, gourmet popcorn, and brownie brittle will make great after dinner treats.
Impressions Gift Basket
If you are looking for a Thanksgiving gift for the family that would make a great contribution to the cornucopia, the Impressions Gift Basket is a wonderful choice. This really is a basket full of love that will show your appreciation for your family at the time of the year where we really give our thanks to the people that make our lives better.
Anything from this family Thanksgiving gift will make an ideal addition to the table centerpiece, with each yummy snack perfect for sharing after a fulfilling dinner. The mini chocolate wafer rolls or the cappuccino chocolate chip cookies will be the ideal accompaniment to a cup of hot coffee after the family meal. And for when the family all settles down together in the den to watch a film or just talk, the soft vanilla caramels, salted caramel, and brownie brittle can be shared around, as you sip on some of the smooth chocolate hot cocoa.
Touch of Class Gift Box
Taking a gift for the host of your Thanksgiving dinner is a gesture that will be so welcome, and show that you appreciate being asked to share the special holiday. The Touch of Class Gift Box is a great Thanksgiving gift for a host as the luscious dried fruit and nut assortment, and savory snacks make for gourmet pre-dinner nibbles.
Presented in a stunning gift box, the snacks in this beautiful basket really will add a touch of class to any Thanksgiving occasion. The gourmet treats inside include a delectable dried fruit and nut medley, a sweet and savory snack mix, salted caramel pretzels, and mixed toffee nuts that are just too tempting to ignore. Will one handful be enough? Just make sure you leave room for Thanksgiving dinner.
Celebration Gift Tower with Sweets, Nuts, and Chocolates
Make someone with a sweet tooth very happy this Thanksgiving with a super sugary gift tower packed the brim with the most heavenly treats. The Celebration Gift Tower with Sweets, Nuts, and Chocolates is the absolute dream for those who love their sugary snacks. Each of the five beautifully decorated boxes is packed with indulgent treats that will add an extra touch of decadence to Thanksgiving.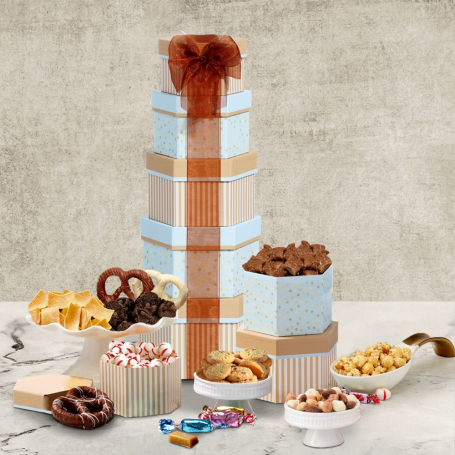 The only problem the sweet tooth will have will be which snack to tuck into first. Will it be the deluxe very cherry and nut mix, of the crunchy and crumbly cappuccino chocolate chip cookies, or perhaps they will put their feet up and eat the entire box of gourmet triple play popcorn, whilst they watch a family Thanksgiving film.
Dried Fruit and Nut Tray
Whilst most of us agree that sweet treats like chocolate, biscuits, popcorn, and the likes, but there are a select few that prefer to have healthier treats. Whilst we may not understand their avoidance of candy and sinful savory snacks, but I'm sure we can agree that they still deserve to receive a special Thanksgiving gift. We have numerous healthy Thanksgiving gift baskets that will still make the mouth water, whilst not affecting any carefully planned diets.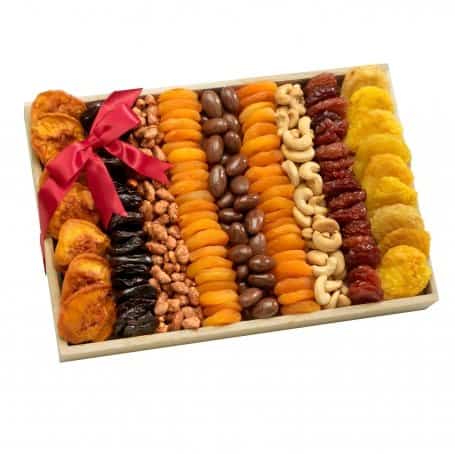 One of our favorite Thanksgiving fruit baskets is the Dried Fruit and Nut Tray, which tastes just as good as it looks. It features a range of delicious dried fruits and nuts, artfully arranged and sealed with a bow, making it such an eye-pleasing gift. Offering the perfect mix of salty and sweet, the fruit tray features dried plums, apricots, prunes, pears and peaches, along with tasty roasted and salted cashews, and mijou toasted nuts.
Whilst there are plenty of dried fruits that will make a welcome addition to any breakfast or picnic for a long hike, there is a hint of chocolate for an extra burst of sweetness. Those who stick to a healthy diet may only rarely have a sweet treat, so their cheat snack needs to be special. The milk chocolate almonds in this fruit gift basket are so delicious, anyone will struggle to stop at one.
Soaring Sapphire Gift Tower
Perhaps you want to show your employees how valued their work has been over the past 12 months, by rewarding their efforts with a corporate gift. It would be a lovely gesture if before the Thanksgiving break you put on a coffee morning for your staff and bring out the Soaring Sapphire Gift Tower for everyone to enjoy.
Not only does it look impressive, with its stacked pyramid of stunning blue gift boxes, but it contains an array of gorgeous treats that will certainly make staff feel appreciated. The gourmet treats inside this Thanksgiving gift basket will be the talk of the office, with soft apple caramels and gourmet triple play popcorn being passed around and shared.
Other tasty delights in this special tower of gift boxes include tasty yogurt dunked pretzels, refreshing mint ice cubes, sweet and savory snack mix, and a decadent brownie brittle. With such an abundance of sumptuous snacks, the Soaring Sapphire Gift Tower may not last too long, so why not really treat the office and buy a couple. We guarantee that no one will be disappointed.
Baskets Full of Love
Here at Broadway Basketeers, we have been making deluxe gift baskets for more than 20 years. All of our Thanksgiving gift baskets are made with love and care and are filled with top quality treats that will please even the most discerning of a foodie. We guarantee your shipping date so you can be sure that your thoughtful gift will make it to the recipient in plenty of time for Thanksgiving.