The Best Birthday Gifts for Her
Beverley P. | Aug 17 2018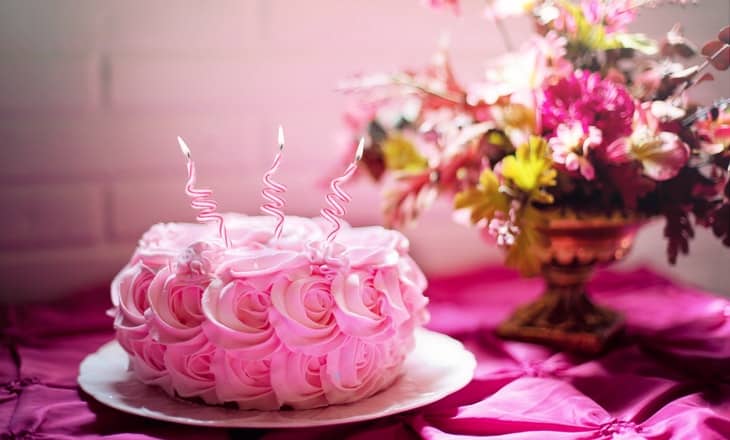 Are you looking for the perfect birthday gift for that special woman in your life, whether it be your friend, wife, sister, mother, grandmother or aunt? Here at Broadway Basketeers, we have a wide range of memorable birthday gift baskets that she won't forget in a hurry.
Offering something for every woman, from our larger-than-life but low-on-price happy birthday gift tower to our soothing happy birthday spa basket for her, we can ensure that she will be left in no doubt about how much you care for her on her big day.
Even if you can't join in the celebrations in person, simply specify the date and location you want us to deliver your chosen gift to and we will take care of the rest. Take inspiration from our list below of some of our favorite best birthday gifts for her and send her a birthday delivery that will be treasured long after her big day.
Best Affordable Birthday Gifts for Her
So, your best friend's 30th birthday bash is imminent, and you want to get her something extra special this year to welcome in her third decade. However, you've realized that your bank balance isn't quite as healthy as you initially thought.
We believe that showing someone you care through gift giving should be accessible to all, no matter what your financial situation. Therefore, we offer a wide selection of birthday gift towers and delicious sweet tasting treats at highly competitive prices, ensuring that generous gift giving doesn't always have to be offset by a lavish price tag.
Gourmet Celebration Gift Tower - $27.95
If you're looking for an affordable birthday gift idea that will still leave a big impression on the recipient, look no further than our gourmet celebration gift tower.
Inclusive of four-tiers of lively polka-dot box designs standing over a foot tall and neatly wrapped together with an enticing large pink bow, this shrine to delectable gourmet sweet and savory treats is fantastic value for money.
It's easy to picture her smiling while opening each of the boxes filled with either chocolate chip cappuccino cookies, butter peanut crunch, triple play gourmet popcorn, salt water taffies and much more, with plenty of choices for those who find it difficult to choose between sweet and savory during snack times.
Happy Birthday Wishes Gift Tower - $28.75
Another great choice for our affordable birthday gifts for her list is our happy birthday wishes gift tower.
The four-tiered, vibrant multi-colored gift boxes are perfect for a teenage granddaughter, niece or friend, as they eagerly open each of the boxes brimming with delectable sweet and savory treats, including assorted flavored jelly bellies, brownie brittle-salted caramel and much more as part of a hugely varied snacking gift sensation.
The most befitting accompaniment to any birthday party, she will also be able to re-use the boxes afterward in her bedroom or bathroom as handy boxes to store all her bits and bobs found around the home.
Birthday Gourmet Cookies Gift - $32.95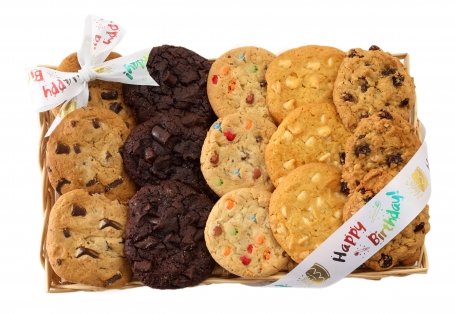 Do you know an aunt or grandmother who is particularly fond of baking for their friends and family? Why not send some mouth-watering baked goods her way for a change with our scrumptious birthday gourmet cookies gift?
A great birthday gift idea for any cookie lover on her birthday, she will be eternally grateful for this generous helping of large, freshly baked gourmet cookies delivered straight to her door in time for her special day.
No fewer than fifteen cookies are neatly packed into a gift tray complete with happy birthday emblazoned ribbons, with a triple selection of flavors including each of oatmeal raisin cookies, chocolate chip cookies, white chocolate macadamia, double chocolate cookies and M&M cookies; she won't know where to start first!
Best Mid-range Birthday Gifts for Her
If your budget can stretch a little further when thinking of birthday gift ideas for your partner or family member, then we have a diverse range of birthday gift baskets and unique birthday gifts which can see an extra few dollars in outlay result in the ideal birthday present for her.
Happy Birthday Gift Basket - $44.95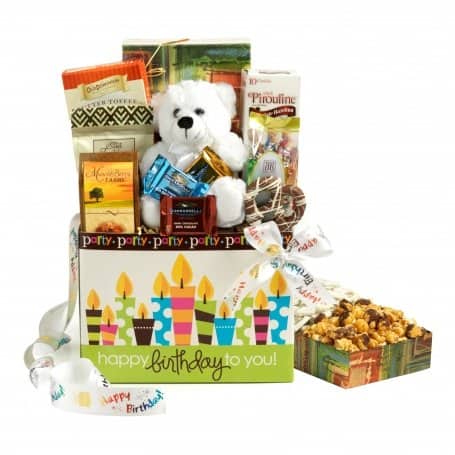 Give the gift of charming variety with our happy birthday gift basket. Whichever milestone she is celebrating, she is bound to love this unique birthday gift which just keeps on giving.
Even if you can't be there to celebrate her special day in person, she will know you are thinking of her as you give your best wishes in the best possible way. Inclusive of chocolate pretzels, milk toffees, Ghirardelli chocolate and butter toffee peanuts, there is plenty here to satiate all manner of tastes and cravings.
Suitable for all ages, she will delight in telling you which treats she's enjoyed most even days after the landmark festivities, while the addition of little white teddy bear peeking out of the basket on arrival simply rounds off the heart-warming sentimentality of this wonderful birthday gift for her.
Vanilla Birthday Cake - $44.95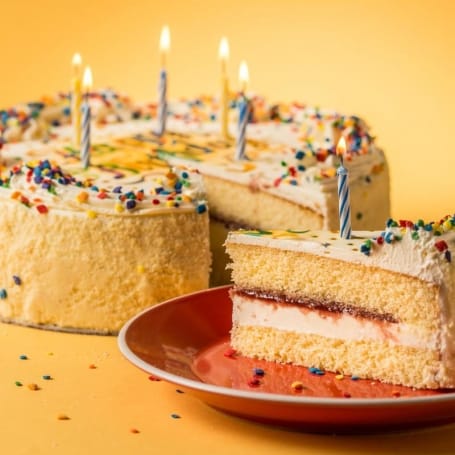 When you want to make a big impression on her special day, the only thing that is vanilla about our vanilla birthday cake is the luscious vanilla buttercream filling and cake mix included as part of a delicious gourmet birthday cake that is as joyous to taste as it is fun to look at.
This tantalizing vanilla birthday cake comprises a sweet raspberry jam and buttercream mix with colorful candy confetti and festive swirls alongside a happy birthday message to top it all off, all of which can be savored by up to 16 guests as a focal point of a birthday party celebration.
You can also include a personal message to her within the delivery, where you can express your best wishes with kind words to complement this delectable vanilla sponge cake offering.
Brilliant Birthday Blooms - $44.95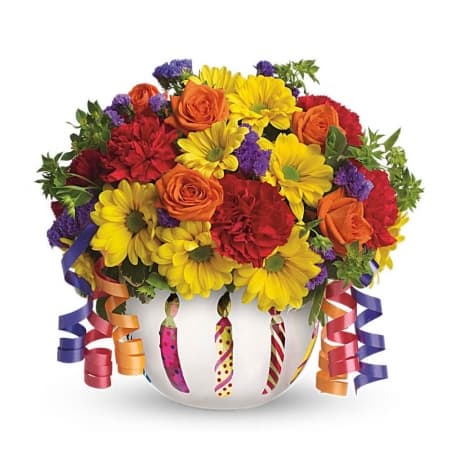 No list of best birthday gift ideas or her would be complete without looking at examples from our splendid range of flower bouquets and arrangements.
Our brilliant birthday blooms make for a discerning choice when seeking the ideal birthday gift for your wife, sister, mother or aunt, who would each appreciate the carefully crafted fusion of orange spray roses, red miniature carnations, yellow daisy spray chrysanthemums and purple statice drew together with brightly colored ribbons.
Holding this colorful arrangement upright is a keepsake container complete with cutaway birthday candle motifs and makes for a truly thoughtful gift that looks right at home anywhere in her house.
Best Premium Birthday Gifts for Her
Is your grandmother reaching a landmark 90th or even 100th year on planet earth, or is your mother celebrating her 50th in style? Even if you can't be there in person, our picks below of some of our best premium birthday gift offerings are a great choice when you want to leave no expense spared.
When you want to make the ultimate impression on her birthday and the sky's the limit when it comes to imaginative and decadent birthday gift delivery ideas, we have you covered here at Broadway Basketeers.
Vanilla Happy Birthday Sheet Cake - $109.99
Is she celebrating her birthday in decadent style with a party for all comers? A big celebration requires a large cake, which is why our vanilla happy birthday sheet cake capable of serving 20 to 24 guests is perfect of the role.
With no fewer than three layers of stacked yellow cake and creamy vanilla frosting, her guests will be coming back for seconds, while the additional greeting card included in the delivery will make her feel the center of attention on a day when she deserves it.
Happy Birthday Spa Basket for Her - $79.95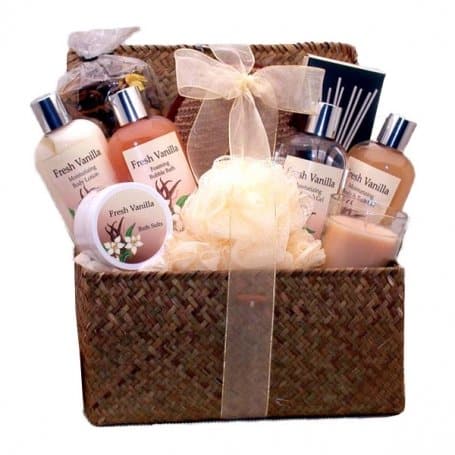 Does your partner deserve some relaxing bath times while you spoil her on her birthday week? Our happy birthday spa basket for her is a gift to her senses, with a mixture of vanilla, amber and cedarwood sifting through the bathroom as she sinks into a mood of complete relaxation.
Included in this extravagant spa collection gift are a range of vanilla scented body and bath lotions, bath salts and sugar scrubs, while the vanilla poured glass candle, bath sponge ball and aromatherapy reed diffuser combine to create many moments of tranquil bliss which she will be more than thankful for.
Large Fresh Fruits & Flowers Gift Basket - $84.95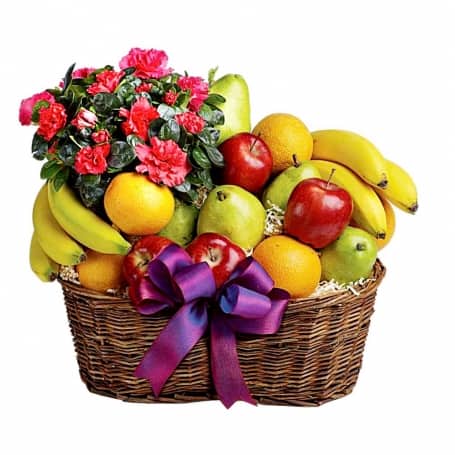 Whether she's having to work in the office on her birthday or she is at home, there aren't many gifts that elicit the same level of ecstatic surprise as our large fresh fruits and flowers gift basket.
If the woman in your life enjoys healthy snack options as opposed to sweet treats, then our hand-picked collection of large fresh fruits and flowers is a testament to our reputation of delivery well presented and high-quality products straight to the door of your loved ones on their special day.
This deluxe fruit and flower basket includes a glorious potted azalea plant, which is a well-regarded favorite across the US and Canada, alongside five apples, five pears, six oranges and six bananas in making for a definitive fruit and flower extravaganza offering hours of healthy eating satisfaction.