Do you have a family member or friend that just loves to be pampered? Do they enjoy nothing more than relaxing in the tub with sweet, soft and sensual smells filling the air? Do they like to treat their skin to the very best in moisturizers and creams? For them is it all about revitalization after a tough week at the office, or do they simply strive for peace and tranquility when at home?
You can treat that important person in your life and make them feel oh so special with your choice of our amazing spa gift baskets.
Whether you're looking for a Christmas gift for that important woman or man in your life or you simply want to choose the best Spa Gift Basket for your mom on Mother's Day, we'll guide you through all your options and help you make the right choice to show that person just how much they mean to you.
We'll detail the smells, aromas and benefits of all our gift baskets. Think how it will make them feel when they receive the ideal gift for all their pampering needs. It will be something they'll never forget. And it will all be down to you.
Kindly Kiwi Spa in a Basket
This is the perfect choice for a DIY spa gift basket, meaning your mom, wife, sister or friend can enjoy the spa relaxation experience from their own surroundings at home. She can relax her body, refresh her mind and rejuvenate her skin with shower gel, bubble bath, body scrub, body lotion, bath salt and sisal sponge.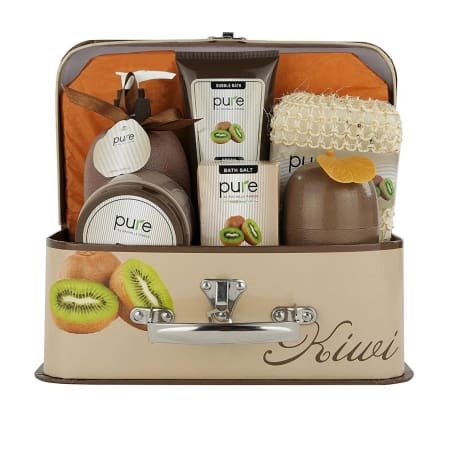 The fruity scents of Kiwi will fill the air as the woman in your life takes time out from her hectic schedule for a little pampering and pleasure. It all comes in an adorable Kiwi themed kit too.
Lavender Essential Oil Aromatherapy Spa Basket
They simply won't be able to get enough of this deluxe spa aromatherapy gift – it's the perfect way to make anyone feel pampered and cared for. Lavender is a therapeutic essential oil that's well-loved for the way it helps you relax, alleviates stress and helps you feel calm. This gift basket is the perfect way to help that person close to you get the great sleep they crave.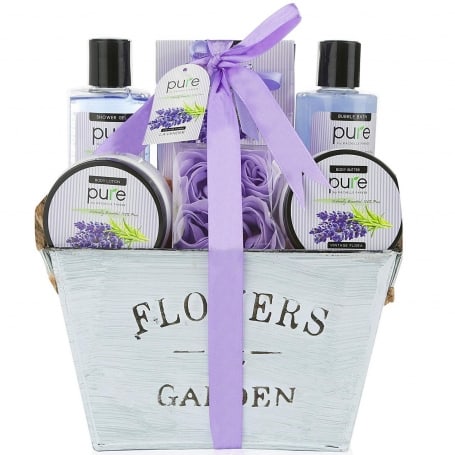 Their new bed, bathing and skincare routine will be enhanced by lavender scented shower gel, luscious lavender body lotion and body butter, as well as bath salts, bubble bath and soap petals. And to round it all off, it comes with a pressure point roller for a personal massage and a great way to work out those stresses and strains.
Hydrating Avocado Oil Spa Gift Basket
Avocado may be delicious and nutritious when eaten, but avocado oil is just as nutritious, nourishing and healthy when applied to your skin too, as it contains vitamins and other key nutrients that work wonders for the health and glow of your skin.
Your loved one will really appreciate this gift, as not only will they enjoy the luscious scent of refreshing avocado, using the simple and natural ingredient based spa treatments may even help their skin to become visibly firmer, softer and smoother. Now, who would say no to that if it landed on their doorstep in the form of a spa gift basket?
Blissful Relaxation Spa Gift Basket
A spa day, spa treatments, massages and aromatherapy are all focused on relaxation, and invigorating the senses with an intoxicating mix of smells and deliciously flavored natural notes. This Vanilla Spa Gift Basket will create a sumptuous feast for the senses with exotic and delicate vanilla, sultry amber and notes of warm sandal and cedar woods. They'll be transported away from the stresses and strains of everyday life to their own personal pleasure palace.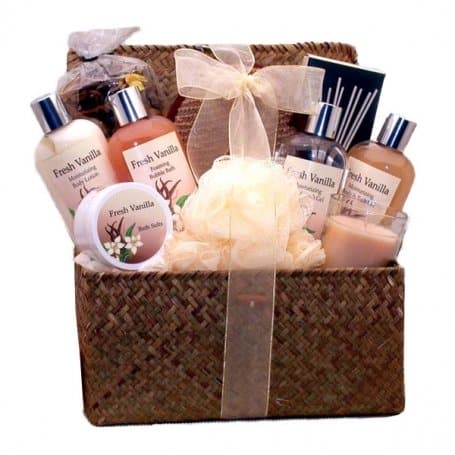 They can create the perfect relaxation chamber with a vanilla poured glass candle, aromatherapy potpourri, Fresh Vanilla lotion, Fresh Vanilla body lotion and Fresh Vanilla bubble bath, as well as an aromatherapy reed diffuser.
Spa Gift Collection
This is all about relaxation and rejuvenation with just a touch of luxury. If you know the important person in your life loves a taste (and a smell) of the finer things, this is one of the best gift basket ideas to truly pamper them on their birthday, in the holidays or whatever the occasion.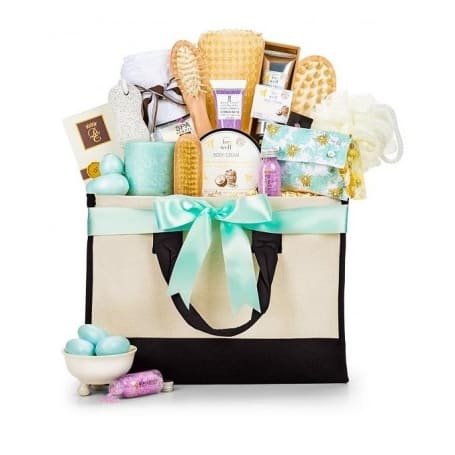 This collection of body and spa gifts comes hand-tied with a satin robin's egg blue ribbon so as soon as they receive it they'll know it's packed with luxury products. And they certainly won't be disappointed when they untie the ribbon to find fragranced lavender bathing salts, honey and coconut hand and body moisturizers, and much more. If you know someone who deserves a little pampering, this is the ideal way to do it.
Aromatherapy Spa Care Gift Basket
This spa gift basket takes DIY pampering to the next level. Your friend or loved one will feel like they've stepped into a relaxing spa in a faraway land as soon as the deliciously flavored fragrances touch their senses -all from the comfort of their own home.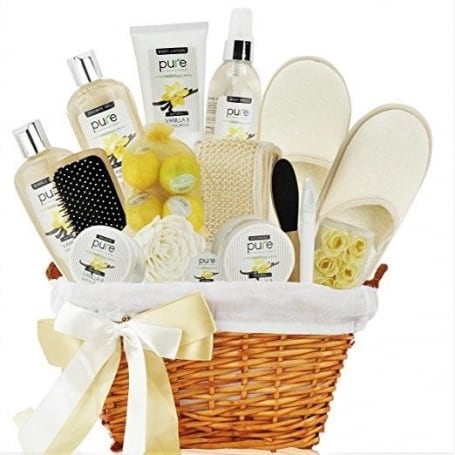 Packed within this perfect pamper basket are full-sized soothing sandalwood and vanilla bath gel, aromatherapy bath bombs, nourishing body butter and so much more. They'll even get some of the basic spa tools to really set the mood.
The Spa Treatment Gift Box
Jasmine and vanilla are the epitome of sumptuous spa aromas. They instantly conjure images of tranquil gardens and peaceful places. And they do wonders to relax and invigorate the body and mind.
Whoever receives this Spa Treatment Gift box will certainly get the royal treatment and experience a soothing sensory Spa sensation. This extravagant collection of deluxe spa products contains Cherry Blossom moisturizing body lotion, Cherry Blossom moisturizing bath gel, Cherry Blossom moisturizing bubble bath, Revitalizing bath salts in a velvet sachet, Mini votive candle gift set, Exfoliating foot file, Nail brush, Bath Loofah. And it all comes packed in a beautiful and stylish faux leather box.
Vanilla Essence Candle Gift Basket
There's nothing like soothing candles to help the worries of the day float away and to relax your mind and body. With this Vanilla Essence Candle Gift Basket, you can help ease the stresses and strains for that important person in your life and help soothe their senses with the relaxing and rich properties of vanilla.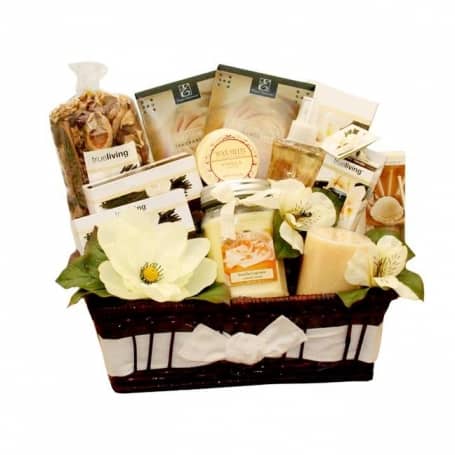 The real delight in this spa gift basket is down to the classic scent – filled with velvety vanilla it will be perfect for almost any occasion.
Showing your affection from afar
One of the best things about our Spa gift baskets – other than the way they smell and their calming and relaxing properties of course - is that you don't have to be there in person to make sure your gift is delivered on time and for a specific event.
You can simply order it online to be presented to them at the best possible time and when it really means the most, whether it's for Christmas, Mother's Day, their birthday, or simply because you wanted to show your appreciation. You can even add a meaningful, personalized message to really show how much they truly mean to you.
Guarantee Delivery Dates
To make sure your spa gift basket is the best gift they receive on their birthday, Mother's Day or during the holidays, at Broadway Basketeers we do everything to make sure it will go as planned, which is why we guarantee delivery dates when you select a "chosen delivery date" when you checkout online.
Pick the perfect pampering present and order online from anywhere
You don't have to be at home when you plan your pampering package for the special woman or man in your life with Broadway Basketeers.
Simply choose your perfect gift using your smartphone or other mobile device for the quickest, simplest and most convenient way to give a meaningful and heartfelt Spa gift basket.