Sending a sympathy gift to someone going through a time of loss is a great way to send condolences and show support. But what do you get for a child struggling to cope with the loss of a parent? Many times the children are overlooked, although they too are hurting. It is challenging to know just what to get for a child, especially if they are younger in age.
During a time of loss, not only are children dealing with the loss of a parent, but they also may be struggling with the lack of attention the event can cause. They need acknowledgment and support as much as an adult does while grieving. A gift is a beautiful and sentimental way to let them know you are thinking of them and you are there.
Sympathy gifts are typically geared towards adults. Offering to babysit or sending a gift card to a store or restaurant is something a child really won't understand or be able to appreciate. However, there are sympathy gifts for children. Whether young as a toddler or older in their teens, below is a list of Sympathy Gifts suggestions appropriate for every age.
Sympathy Photo Bakery Box by Broadway Basketeers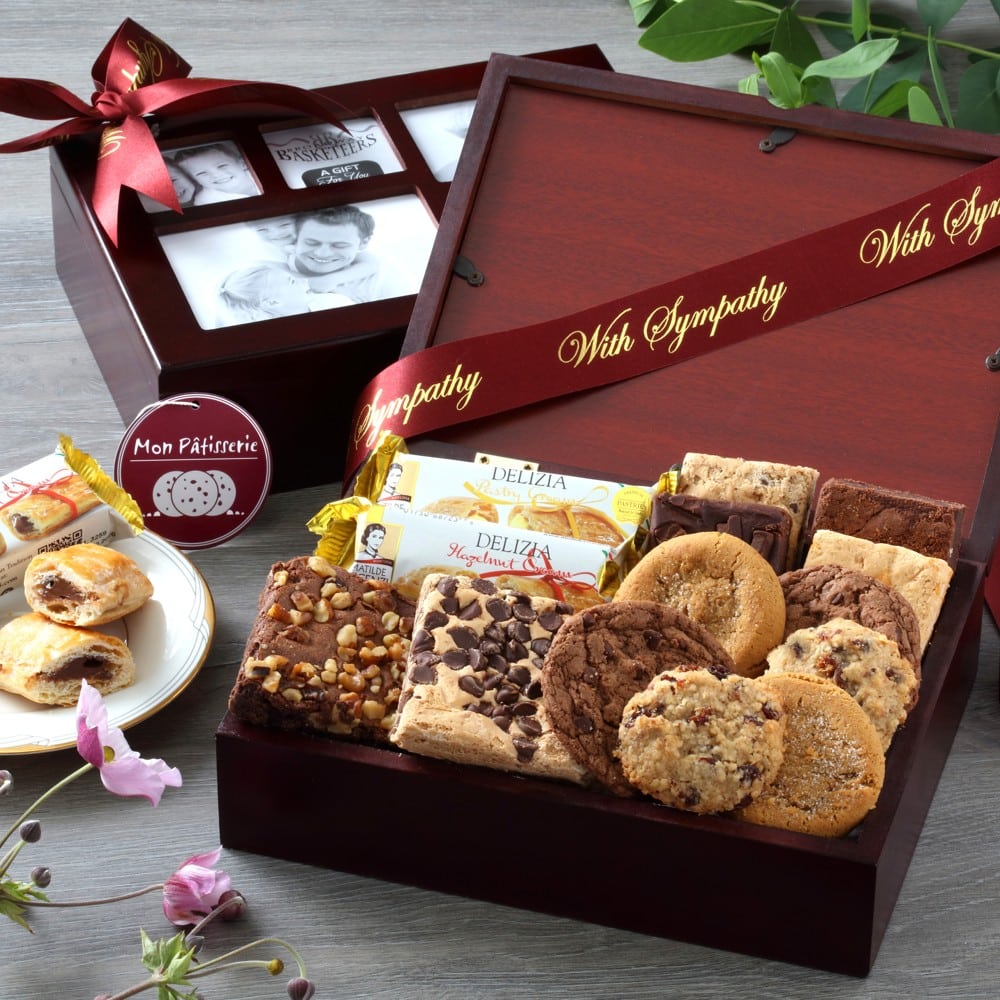 Something a child can appreciate and hold onto is a photo keepsake filled with delicious gourmet treats. This Sympathy Photo Bakery Box will put a smile on their face, if even for a moment, as they enjoy bakery-fresh Mint Chocolate Chip Cookies, a Large Peanut Butter Brownie, a Crème Filled Puff Pastry, and a variety of scrumptious gourmet treats. This beautiful and well-crafted gift box also provides for a sentimental keepsake to hold treasured photos and items for the child so they can always remember their loved one.
Bearington Peace Plush Stuffed Animal Angel Teddy Bear, 12"
A soft stuffed animal is a great sympathy gift to send to a child. This sweet and soothing stuffed bear is just the right size for a child to hold and cuddle with in their moments of need as they are grieving. From the Bearington Collection, this adorable stuffed bear is an ideal sympathy gift for a bereaved little boy or girl.
Butterfly Wings: A Coloring Book for Grieving Children
The lack of attention a child may face at the loss of a parent can make the event that much more difficult for them. The Butterfly Wings story coloring book is an perfect sympathy gift for a child coping with loss and grief, offering an activity they enjoy, and a story of hope, love, faith and positivity when life has taken an uncertain turn.
Me and My Feelings: A Kids' Guide to Understanding and Expressing Themselves
If the bereaved child enjoys reading, this book will be an ideal companion for them as they grieve. Children go through a range of emotions while grieving, and many of those emotions will be new to them, and difficult for them to understand and express. This supportive and encouraging book will show the child it is okay to up about a wide range of emotions, and how the child can express themselves and share what they are feeling with others.
Heaven In Our Home Personalized LED Ivory Light Shadow Box
This beautiful memorial keepsake is ideal for an older child. The Heaven is in our Home shadow box makes for a comforting reminder that their loved one is gone but not forgotten. You can have the shadow box personalized with the loved one's name, commemorative years, and a caring memorial sentiment that will bring comfort and support.