Who doesn't love a gift basket full of delectable gourmet treats? Savory goodies, like gourmet chocolates, cookies, popcorn, brownies, dried fruits, and nuts, among a vast assortment to choose from, can be both attractive, and appealing, yet also reasonably affordable. There are affordable gift baskets of many kinds, so you can impress and delight your loved ones, friends, and family working within any budget.
What if, though, you were working with an unlimited budget to partake in the most enticing, and superb gift basket you, or they, have ever seen? The gift basket of all gift baskets, glorious and overflowing with the best of the best of those savory gourmet treats that there are to offer! What would that gift basket include? We have put together the most exquisite and remarkable gift basket, alluring to the eyes, and distinguished for its luxurious, and exclusive gourmet delicacies!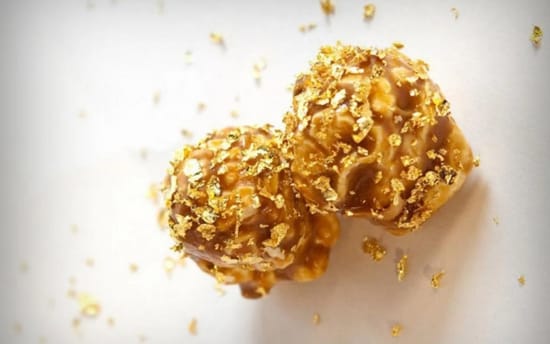 Billion Dollar Popcorn from the House of Berco - $250
Let's start with billion-dollar popcorn. Yes, you read that right! Billion-dollar popcorn from the House of Berco! The name alone is enough to send shock waves to your soul, but the popcorn really doesn't cost a billion dollars. However, an individual tin can cost as much as $250. Created with Vermont Creamery's most select butter, organic sugar-based caramel, the world's most affluent salt, Nielsen Massey Bourbon Vanilla, Laeso, and a touch of 23 karat edible gold flakes, it has an unforgettable classic flare! This dynamic tin of popcorn is a fitting addition to this gift basket of astoundingly delicious gourmet treats!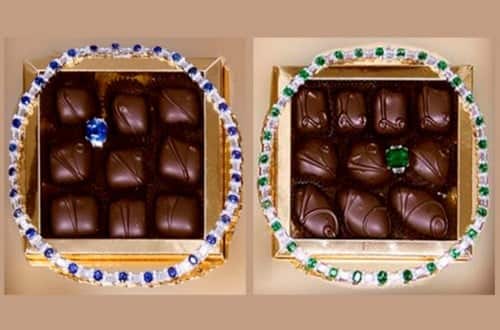 Le Chocolat Box by Simon Jewelers - $1.5m
This classic dessert and jewelry box won't be found at an inexpensive price. It's set to impress with diamond rings, sapphires, emeralds, and delectable gourmet chocolates. The extraordinary combination of chocolate and jewelry is designed by Simon Jewelers. The gourmet chocolates in Le Chocolat Box come from Lake Forest Confections, and the jewelry, such as the bracelets, earrings, and necklaces, come from Simon Jewelers' private collection. Le Chocolat Box is surely an invaluable addition to the most expensive gift basket in the world!

White Truffle Hazelnut Macarons by Pastry Chef Pierre Herme – 2 pounds $14,800
Our next addition to this glamorous gift basket is the most expensive macaron in the world. At $7400 per pound, you can't top this miniature delight! Made by pastry chef Pierre Herme, each variety of this delightful macaron has its own unique recipe, with hundreds of flavors to choose from, such as Arabesque with apricot and pistachio, a Rose macaron that is flavored with rose petal ganache, Mogadore with passion fruit ganache paired with milk chocolate.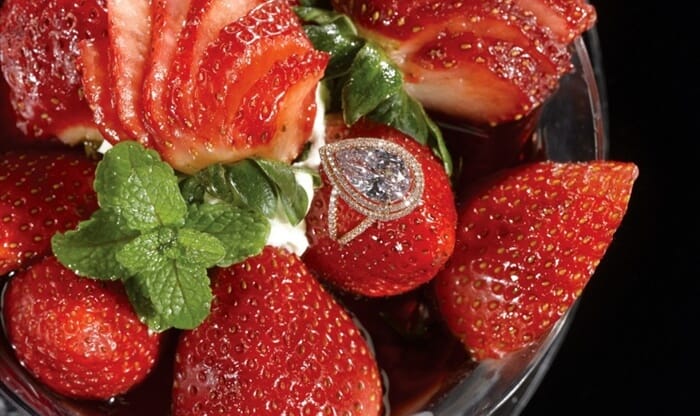 Strawberries Arnaud $3.95m
Another element we've considered in this elaborate gift basket is an option for those embarking on the decision of a lifetime. This $3.95m dessert is actually a proposal gift for the one you love. It combines a distinct selection of strawberries lying in a marinade of port, red wine, citrus, and spices, upon vanilla ice cream. For the final detail, there is a 7.09k pink diamond engagement ring included with this luscious dessert. Will they say yes? We think so!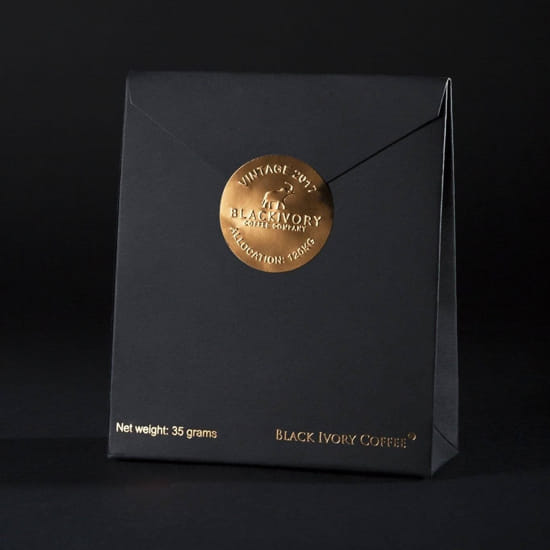 Black Ivory Coffee – $1,000+/Pound
For this priceless gift basket piece, we've managed to find the most expensive coffee in the world! Black Ivory Coffee is a most divine coffee, coming in at a range of $1000 to $1500 per pound! How is it made, and why is it so expensive? In elephants, coffee cherries are digested over the span of 15 to 30 hours. They combine with the elephant's diet, which often includes sugan cane and bananas. A fermentation process takes place, fortifying the fruit flavors into the bean while emitting natural sugars and cutting the acid. The beans are selected from the elephant's excrements and ground up to create a smooth and savory coffee.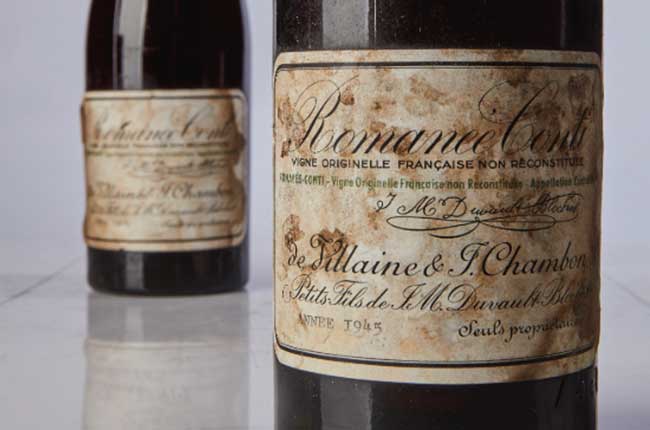 Domaine de la Romanee-Conti, Romanee-Conti 1945 – US $558,000
What does every gift basket need, especially the world's most expensive gift basket? It needs a bottle of vintage wine. Ideally, for this gift basket, we've selected Burgundy's most prevailing fine wine brand, Domaine de la Romanee-Conti. This wine has recurrently set world records at auctions and is presently the most expensive wine in the world. A bottle of Domaine de la Romanee-Conti, at an auction in October 2018, sold for US $558,000. This wine is intermittently produced, causing the price of this older vintage wine to rise to higher amounts.
Macadamia nuts – $25 per pound x4
Macadamia nuts, also known as dessert nuts, are clearly the most expensive nuts in the world. At $25 per pound, we've selected 4 pounds for our most expensive gift basket in the world, in the equivalent of $100. It can take seven years for a macadamia nut tree to produce a crop. Acreage is limited because land prices where the trees are grown are too high to allow expansion of the orchard. Both of these issues, on top of greater demand, contribute to the higher cost of macadamia nuts, making them the most expensive nut in the world. Also, Macadamia nuts may have a higher calorie count, but are actually considered to be good for your diet. Impressed yet? So are we!
Elvish Honey – $6,800 per gram
Honey is a fabulous, and sweet addition to any gift, and the world's most expensive gift basket is no exception! Elvish Honey is hands down the most exquisite honey ever found! This honey has a thick consistency and a beautiful golden color. It originates from a cave located in the northeastern part of Turkey in a Saricayir valley cave. The Turkish beekeeper responsible for this extraordinary creation keeps his hives in the cave for 100% pure and natural production of this honey. This honey is so expensive because a team of mountaineers has to go down 1800 meters into the earth to where the honey is kept, and it's also produced around plants of a curative nature.

Yubari King Melons $27,229 For Two
The epitome of sweet, these melons are like none you've ever tasted. This luxury food item found it's place in our most expensive gift basket with no competition! A hybrid of two kinds of cantaloupe, it's a most exquisite, and expensive melon. This melon can only be grown in a certain region of Hokkaido Prefecture. It gains such a high sum because of the flawlessness of the melons, and the care they are raised with, making it a most attractive piece in the world's most expensive gift basket.
Almas Caviar $34,500 Per Kilogram
Nothing says expensive like Caviar, especially Almas Caviar, at its most affluent price! The cost is because this well to do caviar is comprised of the eggs of the albino sturgeon, which are only produced and delivered every 100 years. Talk about a true delicacy for this expensive gift basket!
That wraps up our most expensive gift basket in the world! Truly a lavish and extravagant gift! But if it's just out of your price range, we have another option for you!
At Broadway Basketeers, our gift baskets may not be as expensive as the most expensive gift basket in the world. However, they are always full of delectable gourmet treats and snacks, at an affordable price! We have a broad selection of gourmet chocolates, brownies, cookies, popcorn and various treats and snacks to choose from for that perfect classic, or festive gift. You can select your very own unique and priceless gift basket!