Dec 21, 2016
Holiday Recipe Contest Winning Recipe - Heath Bar Cheesecake!
Broadway Basketeers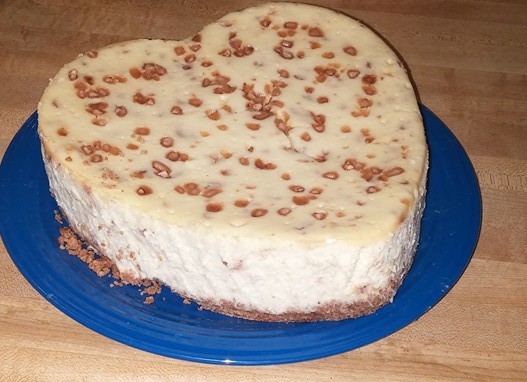 Thank you to all who entered our Holiday Recipe Contest! We would like to congratulate Sherry Bracy on being our winner for submitting this awesome Heath Bar Cheesecake recipe (see above for the finished product)! She will receive our Seasons Greetings Gift Tower as a prize!
Heath Bar Cheesecake 
You'll need: 1 1/2 cups graham cracker crumbs 3 tablespoons sugar 1/3 cup butter or margarine, melted 4 packages (8 ounces each) cream cheese, softened to room temp 1 cup sugar 1 teaspoon vanilla 4 eggs 1/2 - 3/4 cup Heath or toffee bits (or you can chop up Heath candy bars, which will add some chocolate too!) 
Here's how to make it: Heat oven to 325 degrees F. Combine graham crumbs, 3 tablespoons sugar and butter. Press onto the bottom of a 9-inch springform pan. (I used my heart-shaped one!) Beat cream cheese, 1 cup sugar and vanilla with mixer until blended. Add eggs, one at a time, mixing on low speed after each, just until blended. Fold in Heath bar bits or chopped Heath candy bar. Pour over crust. Bake 55 minutes or until center is almost set. Run knife around rim of pan to loosen cake. Cool before removing rim. Refrigerate cheesecake 4 hours before serving. Options: you can add any candy you want! : Chocolate chips, Malted Milk Balls, Butterfingers Etc. Use Your Imagination!