Who doesn't like to have a cookie to nibble with after-dinner coffee, as an after-school snack or to satisfy a three o'clock, afternoon, or middle of the night craving? This spring, take it upon yourself to try some of these fun cookie recipes. They'll keep your cookie jar filled… at least until your family finds out they're there. Be sure to stock up on supplies, because you have some serious baking to do!
Shortbread cookies are a classic. They're also extremely easy to make. Shortbread is essentially a mixture of butter, flour, sugar, salt and water. Look for a super-simple recipe to follow, and let the kids join in.
You get a five-star baking bonus if you get so accustomed to your shortbread creating that you feel comfortable making changes, like adding jams for shortbread sandwiches or dipping the shortbread cookies in melted dark chocolate!
If you're going to make cookies, you'd better have some warm, fresh-from-the-oven chocolate chip cookies at least once. Why are chocolate chip cookies so popular? The reason probably stems from the fact that they give you just enough of a chocolate taste to keep you coming back for more.
Although there are more ingredients in a chocolate chip cookie recipe than in a shortbread cookie recipe, you shouldn't have any problem making batch after batch. Beware, though: These are seriously addictive and will fly from your kitchen as if they had chocolatey wings.
Feeling a craving for peanut butter but don't want to eat it straight out of the jar or in a sandwich? Make peanut butter cookies instead. You can alter most recipes to include pieces of peanuts or another type of nut, if you wish.
As a precaution, make sure you don't have anyone in your household with a serious nut allergy when you make these cookies. If your children have friends over, be certain that they won't be affected if you create something made from peanuts and possibly tree nuts.
Looking to flex your baking muscles a bit? Try a rolled sugar cookie recipe. In general, sugar cookies taste good alone, but they're much better when you add on sprinkles, icing, confectionaries and even chocolate morsels.
This is a wonderful rainy day cookie recipe, because it allows the kids in your family to get involved in the decorating process. Then, they can eat their creations with a healthy glass of milk or freshly squeezed juice while you have a tasty cup of herbal tea or coffee.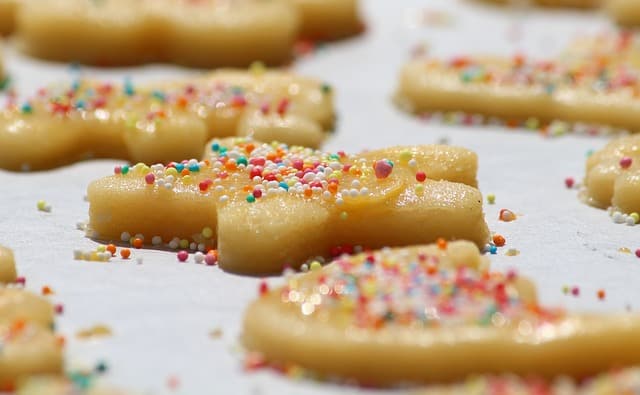 Getting hungry for some sweet tooth satisfying treats? Get out your utensils, mixer and bowls. It's time to bake cookies!