Bring in the new year right with a New Year gift basket they'll never forget. Gift baskets come in a range of shapes, sizes, and offer a medley of varieties to suit anyone's taste. Whether they're a connoisseur of fine wine, lover of sweets and salty treats, or whatever may interest them, there's a gift basket out there for them to enjoy. We've narrowed down the list to bring you the best of the best – the top gift baskets to bring in 2019.
Help your loved one bring in the new year with a gourmet candy and savory treat gift basket they're sure to remember for many years to come. From truffles to pistachios, there's a whole range of treats to indulge in when it comes to the Sweet Honeycomb gourmet gift basket. The treats are wrapped in a gorgeously styled honeycomb-shaped gift basket. A Kosher gift, it makes for a great holiday gift basket for any holiday out of the year.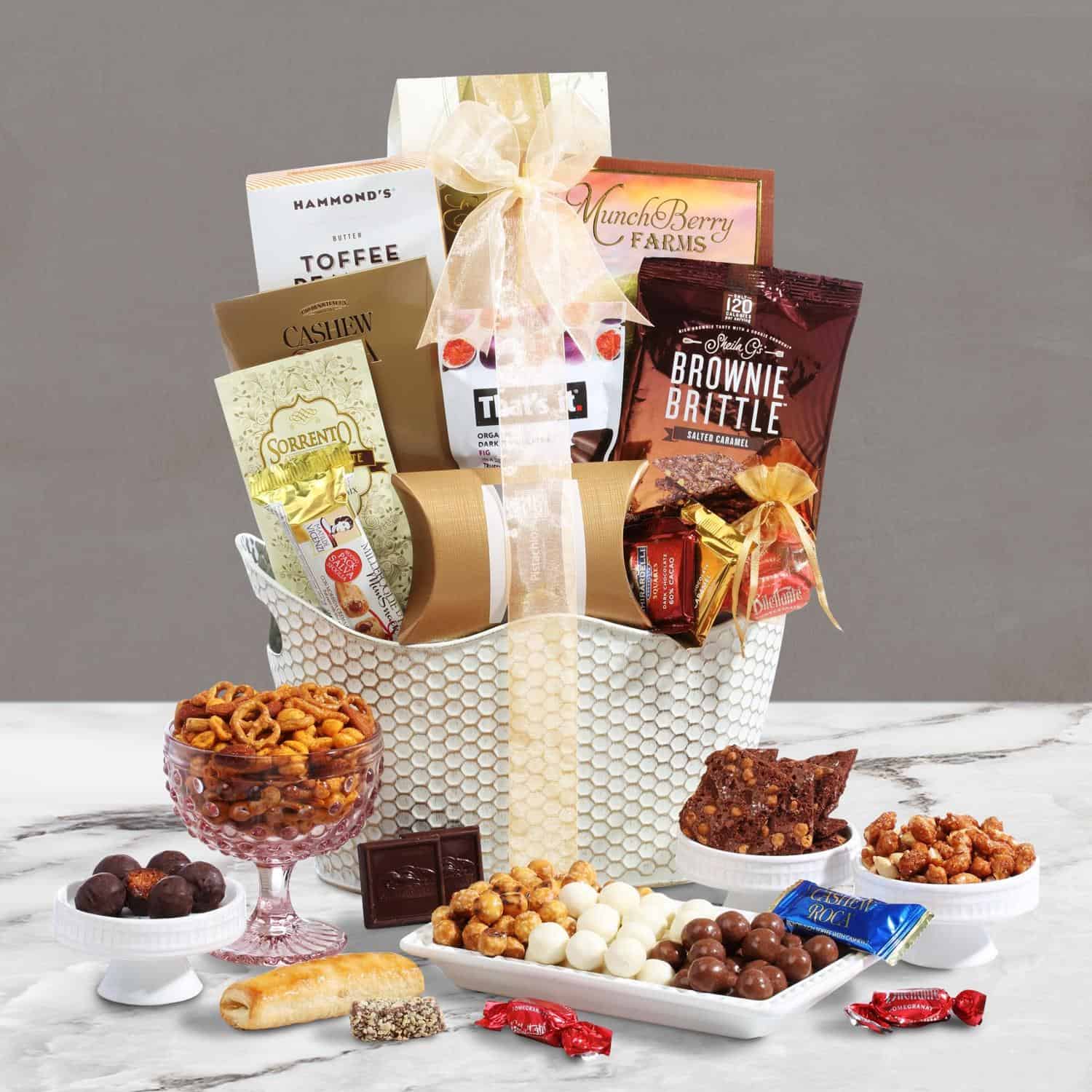 Satisfaction guaranteed, the recipient for this gift basket would get to enjoy:
Ghirardelli Chocolate Squares
Cashew Roca
Hammonds Butter Toffee Peanuts
Hazelnut Stuffed Puff Pastry
Pistachios
That's It Chocolate Fruit Truffles
Sheila G's Brownie Brittle
Sweet & Savory Mix
Dilettante Truffle Cremes
Assorted Chocolate and Salted Pretzel Balls
Sorrento White Chocolate Cocoa
One of the greatest gifts on the Broadway Basketeers lineup yet, you can shower your loved one in decadent treats, gourmet chocolates, and a splendid wine to top it all off. Whether you want to give them a gift basket for 2019 or whatever the occasion may be, they'll enjoy this for the next days or even weeks to come as they filter through all the delicious goodies this basket has to offer. The big red basket that holds all the treats is packed full with over 15 goodies, along with a 750ml bottle of dry red wine from LOU to pair everything together perfectly.
A grand gift with a big red bow, the recipient for this gift basket would get to enjoy:
LOU dry red wine
Hammonds Butter Toffee Peanuts
Assorted Milk Toffees
Chocolate Pecan Caramels
Milk Chocolate Covered Bavarian Pretzel
Pirouline Wafer Rolls
That's It Chocolate Fruit Truffles
Ghirardelli Chocolate Squares
Crème Brulee Trail Mix
Blueberry Greek Yogurt Cookies
Salted Caramel Pretzel Twists
Assorted Fruit Flashers
Cashew Roca
Sorento Hot Cocoa
Chocolate Covered Pretzel Balls
Old Fashion Peanut Brittle
Caramel Popcorn
As 2018 comes to a close and 2019 comes to light, you want to ring in the new year with a holiday gift tower that will truly shine as bright as the new year is going to be. The Token of Appreciation holiday gift tower stands 16 inches tall, a stack of five smaller gift boxes that make up the staggering tower. Filled with delightful treats and salty snacks in each box, the recipient for this gift would get a surprise every time they open up a new section of the tower.
With everything you need, plus a little extra, the recipient of this gift tower would enjoy:
Chocolate Chip Cappuccino Cookies
Gourmet Cracked Pepper & Sea Salt Popcorn
Blue Cheese Pretzel Nuggets
Chocolate Toffee Pretzels
Soft Apple Caramels
Chocolate Peanut Butter Caramel Popcorn
Festivities Gift Basket
Just when they think the holiday festivities are coming to a close, you can help them keep celebrating and bring in 2019 right with the Festivities gift basket. Brimming full with a grand selection of savory treats and gourmet sweets, you can share this Christmas gift basket while you reminisce about the year of 2018, make plans and resolutions for the new year, and start the year off right with gifts for your taste buds. From truffle to pistachios, there's a little bit of everything to love in this gourmet gift basket.
Delivered conveniently and free of hassle, the recipient of this gift basket would enjoy:
Chocolate Chip Cappuccino Cookies
Snapper's Chocolate Sea Salt Caramel Pretzels
Ghirardelli Chocolate
Sorrento Hot Cocoa
Almond Roca
Dilettante Truffles
Pistachios
Caramel Popcorn
Hazelnut Filled Puff Pastry
Yogurt Pretzels
Ashers Chocolate Covered Caramels
Conclusion
There's a delicious range of treats offered in gift baskets, gift towers, and other gourmet gift containers. Broadway Basketeers is proud of every decadent treat, savory snack, and gourmet delight that goes into each tower or basket. Mark the year of 2019 off right with the top New Year's gift baskets for 2019.