Nov 22, 2018
Buying Guide for Christmas Gift Baskets
Rachel S.
Gifts are one of the best ways to show someone how much you care. Finding the right unique gift for them can be a task of its own, though. It can be daunting trying to find the perfect gift for every loved one during the holidays – which is exactly why gift baskets pose as an easy solution that everyone involved will enjoy. You can even personalize the Christmas gift basket to be unique to the loved one you're purchasing it for.
Let's dive into ways for finding the best Christmas gift basket for someone, how to add a personal touch to the basket to make it truly special, the types of baskets and towers available on the market, and even how to make sure it's delivered on time for the holidays. Broadway Basketeers works to provide you with an honest, unbiased guide that you can use as fuel to find the best Christmas gift basket for anyone you might be shopping for.
Tips for finding the best Christmas gift basket
You know picking the perfect gift isn't easy, especially for the loved ones who seem to have just about everything you could buy for them as it is. Even if they don't need anything, that doesn't mean the gift you give them has to lack utility. On the contrary, for the people who already have everything, gift baskets make a perfect gift that they'll be able to enjoy from start to finish.
Professional or personal
The two big categories of gifts are professional gifts appropriate to give your co-workers or boss and personal gifts that are presented to family and friends. The best thing about gift baskets is they look good in a personal or professional setting, so you can keep this idea flowing no matter who you're shopping for.
Strike up a conversation
When trying to find the best Christmas gift for anyone you're shopping for this season, you can discover something new that they'll like just by kicking off a conversation with them. Find out what they like by talking to the person, even if you talk to them on a regular basis already.
Think of what the recipient would like
Don't make the mistake of buying something you would like for someone else – your likes and interests may be opposite to theirs. Perhaps you like milk chocolate while they prefer white chocolate. Examples like that make it easy to see why you want to base each person's gift on things they would like instead of what you would like.
Consider how long you want the basket to last
There are plenty of gift baskets that can be consumed within the first couple weeks or even days of opening the gift basket. Likewise, there are the more luxurious gift baskets that will be used up over time, with just a few evergreen items in the basket to keep with them. Still, other gift baskets have tech or utility tools that someone would be able to use for years.
Decide how evergreen you want this gift basket to be to help you decide which is the best Christmas gift basket for this endeavor. Broadway Basketeers offers a variety of delectable gift baskets that also contain various evergreen items that will keep the memory of the gift basket alive in the recipient's eyes for many years to come.
Base it on something you already know
Consider the passions and hobbies of the person you're shopping for. Are they showing an interest in something lately? Have they hinted in some way what type of gift they might be looking for? Is there a specific purpose you want the gift basket to have for the person you're buying it for? Asking yourself these questions will help you get down to the bare wants and needs of the individual you're getting a gift basket for.
Types of Christmas Gift Baskets & Towers
While the main categories are just between personal and professional, those categories can be broken down into a range of different types of Christmas gift baskets and towers. We'll examine each of these types and look at examples to give you a better idea of what kind of Christmas gift basket options you have available.
Gifts for him
You can find the best Christmas gifts for the man in your life with Broadway Basketeers. There's a range of Christmas gifts available designed just for him, including Christmas gift trays, baskets, and even towers.
For men of all ages and relation to you, there are quality wines, gourmet treats, and savory snacks that they'll be able to enjoy even after the Christmas holiday has passed.
To show off an example of the gourmet treats available for him, the Mistletoe Memories gift tower packs quite a delicious punch. From decadent Dilettante truffles to light and airy caramel popcorn, he'll be able to snack on this tower for days or have enough to share with the whole family for the holiday (although you'll leave that decision up to him).
There are many other treats that help stack this tower 13 inches high and 6 inches by 4.5 inches wide, including:
Chocolate covered Oreos
Assorted pretzel balls
Premium Chocolate Truffles
Chocolate chip cappuccino cookies,
Chocolate covered Bavarian pretzels
Assorted milk toffees
And much more!
Likewise, maybe the man in your life will enjoy a quality wine with their gourmet treats, which is where the Rustic Retreat Rioja red wine gift basket will come in handy. Containing plenty of savory snacks and sweet treats like triple play popcorn and Ghirardelli chocolate squares, the red wine basket also comes with a Ramon Cardova Rioja 750 ml red wine. A Spanish vintage that dances across the tongue with ripe notes of cherry makes this a delightful splash for a gift basket.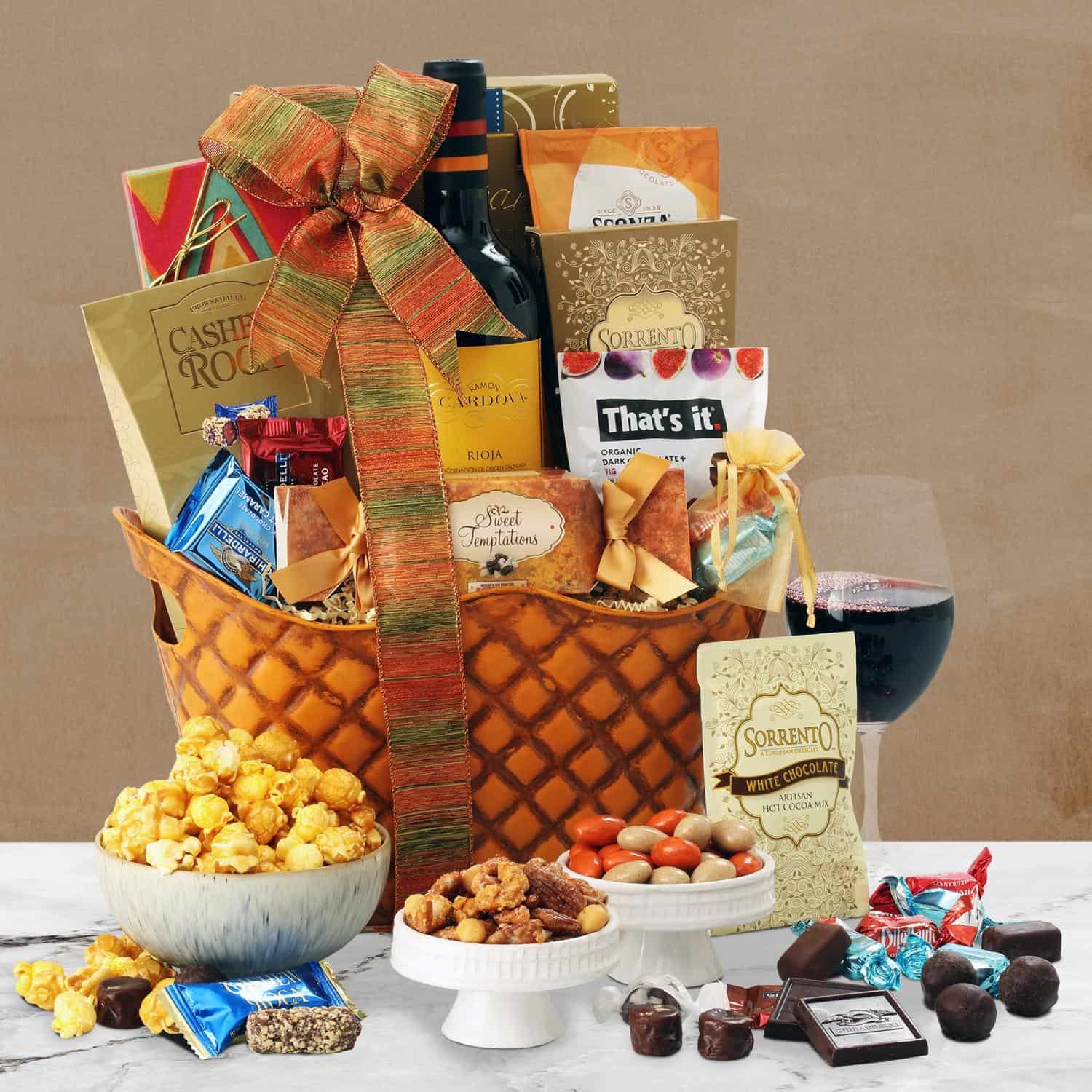 The combined package is luxurious, intended for your dad, brother, husband, or other someone special in your life. To complement the wine and treats already mentioned, this basket also contains:
Premium Dilettante chocolate truffles
Chocolate covered fruit
Butter toffee mixed nuts
Chocolate pecan caramels
Cashew Roca
Sorrento cocoa
Gifts for her
She deserves something unique for Christmas, which is just one of the reasons Broadway Basketeers provides personalized gift options, gourmet gift baskets, and delightful treats. For all the women in your life, there's a luxurious gift basket, tower, or even a gift tray that would be perfect for her.
There are many gift baskets out there, but few will stick out in her mind as much as the 18-inch Glittering Gold holiday gift tower. Standing 8 inches by 5 inches wide and a foot and a half tall, this gift tower is full of all the sweet treats she could love. She can sate a variety of cravings with the different sweet and savory treats available.
There are butterscotch flavored candy discs for when she has a sweet tooth but doesn't exactly want chocolate, gourmet caramel popcorn for a sweet and salty experience, and Dilettante truffles for a delicate, melt-in-your-mouth treat. There's a lot more to add to the luxury and sheer variety of this deluxe gift tower, including:
Chocolate-enrobed Oreo cookies
An assortment of milk toffees
Double dipped chocolate covered peanuts
Chocolate covered pretzel balls
Pirouline chocolate wafer rolls
Salted caramel pretzel twists
Chocolate chip cappuccino cookies
True luxury comes in the Merry Christmas holiday gift basket from Broadway Basketeers. Standing 12 inches wide and 14 inches tall, this gift basket is sure to stick out in her mind for years to come. "Merry Christmas and happy New Year" is an emboldened sign on the front of the basket, which is perfect, because there's enough in the basket to last her well past the turn of the new year!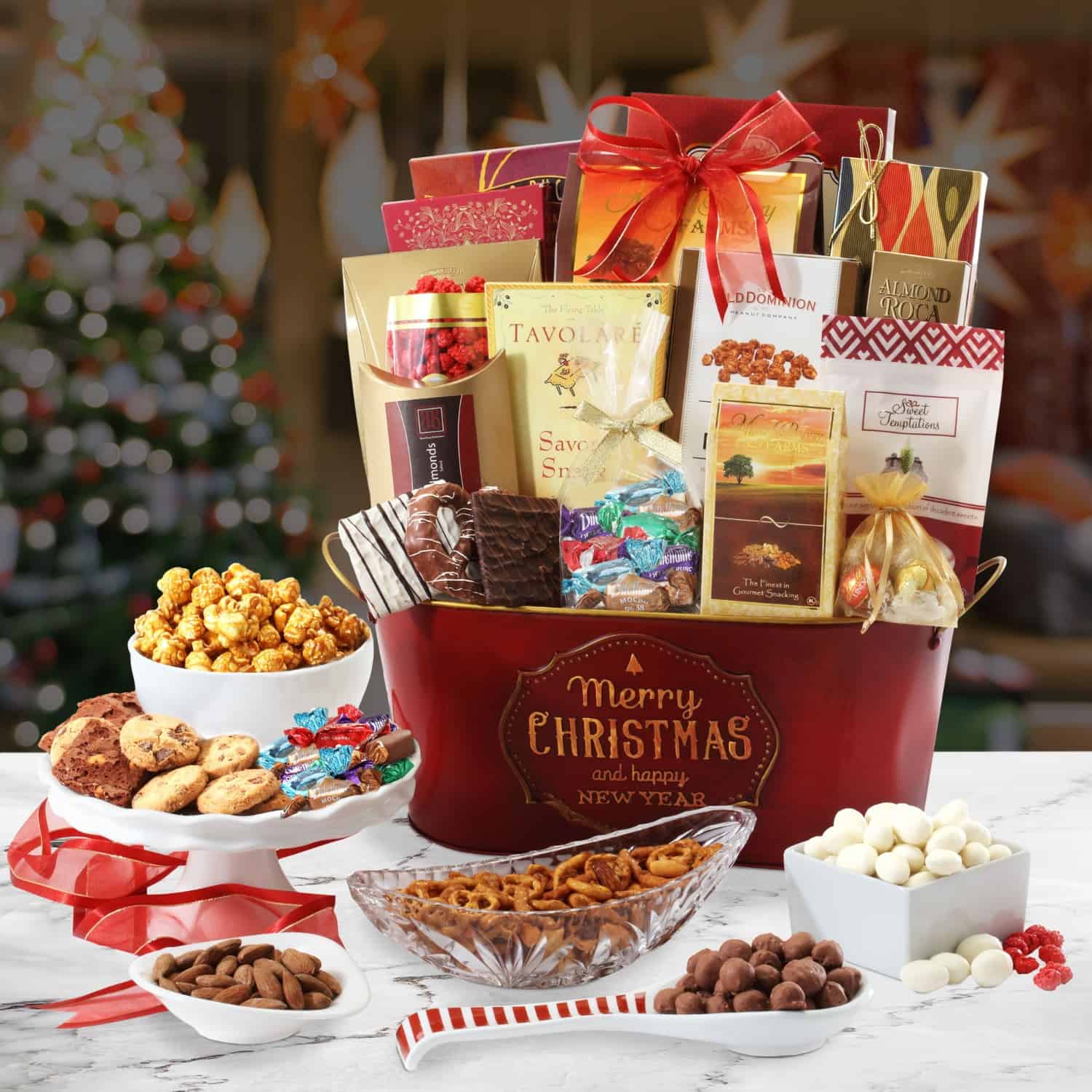 The gift basket contains delightful treats like Lindt truffles, dark chocolate covered graham crackers, roasted and salted almonds, French burnt peanuts, butterscotch sweets, and tuxedo peppermint chocolate bark. The basket also includes:
A sweet and savory snack mix
Almond Roca butter crunch
Cashew Roca butter crunch
Sorrento hot chocolate
Double dipped chocolate covered peanuts
Wolfgang Puck's European coffee
Blueberry Greek yogurt cookies
Snack mix from Tavolare
Milk chocolate covered Bavarian pretzel
Corporate gifts
Giving a gift to your co-workers, employees, or your clients is an excellent way to demonstrate how valued they are in your life. Whether you're shopping for a giant gift tower for an employee, a gift tray for an office party, or a special gift basket for a highly regarded client, Broadway Basketeers has a range of options that can fit your needs.
You'll leave a lasting impression with whoever the recipient of this gift basket is. Perfect for the co-worker you always see snacking, the boss who always has a sweet tooth or a client who you want to feel appreciated, they'll enjoy a chocolate-filled pastry, crème brulee trail mix, Sorrento hot chocolate, and much more.
Measuring 12 inches by 6 inches by 14 inches high, you can expect to see the following items also in this gift basket:
Salted caramel pretzel twists
Milk chocolate covered Bavarian pretzels
Chocolate pecan caramels
Pirouline wafer rolls
13-piece assortment of Fruit Flashers hard candies
Mixed toffee nuts
Cracked pepper and sea salt popcorn
An assorted pretzel ball mix
Sheila G's brownie brittle in salted caramel
Blueberry Greek yogurt cookies
Winter Wonder Gourmet Gift Tower
Celebrate the season with your workforce by gifting the Winter Wonder gourmet gift tower from Broadway Basketeers. A winter-themed gift tower, you can expect a stunning set of savory snacks and sweet items, guaranteed to please anyone. The custom-designed gift boxes that come in the tower are reusable, adding to the utility and charm of the overall tower.
For a perfect combination of sweet and salty delights, the gourmet gift tower includes:
Sorrento white chocolate cocoa
French apple crisps
Milk chocolate covered Bavarian pretzels with a dark chocolate drizzle
Milk chocolate covered Bavarian pretzels with a white chocolate drizzle
Blue cheese pretzel nuggets
Dilettante chocolate truffles
Chocolate covered fruit
Sheila G's brownie brittle
Caramel apple kisses
Blueberry Greek yogurt cookies
Chocolate toffee pretzels
Gourmet toffee nuts assortment
Snappers pretzels
Chocolate peanut butter caramel popcorn
Hazelnut filled puff pastry squares
Family gifts
Christmas is a time for family and friends to come together, enjoy each other's company, and exchange thoughtful gifts. The Christmas gift baskets from Broadway Basketeers are packed with savory and sweet treats that are perfect for sharing with the whole family. From show-stopping gift baskets to towering gourmet gift towers, there's a perfect treat option for every family to enjoy.
A popular tower of delightful treats, the holiday gift tower deluxe is a tower that the whole family can break into on Christmas morning and enjoy, with plenty of treats to roll over the following days after Christmas as well. There's always someone in the family that doesn't enjoy chocolate or sweets as much as everyone else, which is why there are some savory and salty options added into the mix as well. With "deluxe" in the name, luxury is the game for this lavish holiday gift tower.
The gorgeous chic wrap and beautiful packaging mean the holiday gift tower will arrive in style whenever you set the delivery. You can even include a personalized message, though we provide more detail for that later in this guide.
Consisting of delectable sweet treats, salty and savory snacks, and more, this tower contains:
Mixed toffee nuts assortment
Dilettante chocolate truffles
Snappers chocolate caramel and sea salt pretzels
Cracked pepper and sea salt gourmet popcorn
Yogurt pretzels
Double dipped chocolate covered peanuts
Blueberry Greek yogurt cookies
Chocolate peanut butter caramel popcorn
Chocolate pecan caramels
Chocolate covered Bavarian pretzels with a dark chocolate drizzle
The perfect snack gift for a big family, the Ultimate Christmas gift basket packs everything you love into one beautiful package. Merrily filled to the brim with snacks, sweets, desserts, and treats, your whole family will have something to indulge in with this comprehensive gift basket.

Break out the flavored hot cocoa that comes with this gift basket and sip in matching family mugs while you look through the rest of the gift baskets contents, which include:
Toffees assortment
Honey mustard pretzel nuggets
Chocolate covered almonds
Caramel apple kisses
Chocolate drizzled graham crackers
Seasoned snack mix
Yogurt pretzels
Brown and Haley Cashew Roca
Old Dominion peanut crunch
Brownie brittle
Cappuccino chocolate chip cookies
Butterscotch flavored candy
Toffee covered pretzels
Caramel popcorn
Lindt truffles
Plus more!
Wine gifts
Broadway Basketeers presents a varied selection of contemporary, quality wine gifts for every occasion. Offering both organic and Kosher options, the wide selection of Christmas wine gifts opens the fun your present might contain for the recipient. Help someone have a luxurious experience with smooth wines that are complemented by sweet and savory treats. These are two hand-picked favorites that wine lovers never seem to get enough of.
Kosher-certified and deluxe, this classy Christmas gift basket contains a semi-sweet red wine from Contessa Annalisa Carino, as well as a premium wood and steel corkscrew to open it with. The corkscrew is an evergreen item that the wine lover you're gifting will be able to use indefinitely going forward.

They won't be left with just a wine bottle and corkscrew to open it, though, as the wine is complemented with:
Caramel apple kisses
Snappers pretzels
That's It truffles
Dried fruit and nuts mix
Hammonds peanut crunch
Chocolate covered and salted pretzel ball assortment
Yogurt pretzels
Fruit flashers hard candy assortment
Cracked pepper and sea salt popcorn
Chocolate chip cappuccino cookies
Asher's Chocolate truffles
Milk chocolate covered Bavarian pretzels with a dark chocolate drizzle
Roasted and salted almonds
A wine gift tray is also a perfectly acceptable option for the wine lover in your life. That's why the Hopeful Holidays wine gift tray is packed with an assortment of goodies they're sure to love with the bottle of Chateau Josephine Cabernet Sauvignon wine. The wine itself is a Kosher blend of smooth flavors and ripened berries, and it sits with the other treats on the gorgeous wooden serving tray the gift tray is made up of.

Stacked on the serving tray alongside the wine are a variety of sweet and salty snacks, including:
Roasted salted pistachios
Cinnamon toasted almonds
Berry cherry vibe mix
Butter toffee mixed nuts
Dilettante chocolate truffles
Asher's chocolate covered caramels
How to add a personal touch to your Christmas basket
A customized card is available with every purchase through Broadway Basketeers. That customized card means a personalized holiday basket that will be unique for the recipient every time.
When you add the best Christmas gift basket for your needs to the cart and hit checkout, you'll be taken to the first page of the ordering section, which allows you to add the shipping address, delivery date, and gift message to the recipient. You can also select that the package needs to be shipped to another recipient, which will double the quantity of the gift baskets you're purchasing and allow you to input another shipping address.
Once you've filled out the shipping address portion and selected your preferred delivery date from the options available, you'll see the "Gift Message" section available. You can look through popular messages that people often send, write out a greeting for the recipient, write out the message below the greeting, and add a signature at the bottom. You'll also be given the option to add a free media message, which can contain a picture, video or voice recording. The personal touch you can add to your Christmas gift basket for the friend or loved one you're shopping for will make it so much more special, which is why Broadway Basketeers focuses on personalization.
How to choose your delivery date
It is incredibly easy to order a gift basket, and have it delivered on the date you select. As you're looking through the gift baskets available on the Broadway Basketeers site, you'll notice there are multiple delivery options.
How to choose your delivery date when ordering:
1. Add the gift basket, tray, or tower you have your eyes on to the cart and hit checkout. You'll be asked to log in or submit your email as a guest.
2. Select your shipping address for the "Delivery On" section to unlock.
3. Select "Choose a delivery date" and see which options are available and how much shipping will cost for each option.
4. Once you've selected the delivery date you prefer, the "Gift Message" section will unlock.
5. After you've submitted the gift message you want to be included, you'll be taken to the next page for payment and order review
Delivery Options
Some products will specify if free shipping is available, or what delivery option will help you take the hassle out of gift giving for the holiday. While select products have free shipping, other products may have the following delivery options:
Economy: Whenever an order is placed with economy shipping as the delivery option, the gift is delivered within 6 business days
Standard: With standard shipping, you would choose the exact delivery date, though there are still expedited days that may require an expedited delivery fee. You will see these dates, as well as pricing, specified when placing your order.
Express: If you need your basket delivered on an exact date AS SOON AS POSSIBLE, express shipping is an expedited option
Conclusion
The recipient to your gift basket will love it, and you'll love how easy it was to order and be delivered through Broadway Basketeers. From choosing the best Christmas gift basket to having it delivered to their door, you can feel confident that you've made the right decision.
Order your gourmet Christmas gift baskets online today for fresh, plump fruit, decadent chocolates and baked goods, crunchy and delicious savory snacks, and evergreen items that last like wine bottle openers and serving trays.