How to Make This Valentine's Day 110% Memorable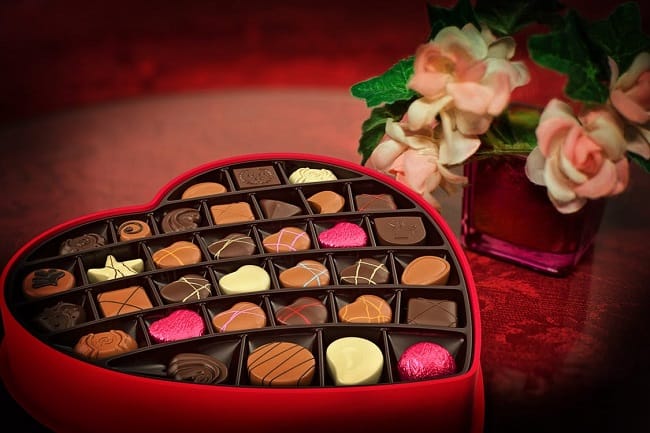 Valentine's is only a few weeks away, yet you can already feel the love in the air. And even though most of us have grown accustomed to this holiday as just another day in our lives, that doesn't mean we can't do our best to make it stand out.
In fact, Valentine's is the perfect opportunity to create amazing, lasting memories with your partner. And if you're short on ideas regarding what to do on this special day, don't worry – we've got you covered with some of our amazing valentines day gift baskets.
We've decided to put together a whole day's guide for you where we'll be walking you through what you can do for your loved one starting in the morning, through noon, evening, and night this Valentine's.
This way, you'll be sure to find your ideal approach to this lovely holiday, and – why not – maybe even come up with some ideas of your own.
Keep in mind that you're free to pursue any ideas you like in our Valentine's Day guide. You're not restricted to doing all of them, or pursuing each idea in a certain manner – it's all up to you to decide how to best surprise your loved one this year.
With that out of the way, let's get started!
A Heartwarming Morning
The best way to make sure this Valentine's Day goes perfectly is to give it a great start. Here are a few ideas to help you out:
Breakfast in Bed
One surprise that never fails to wow someone on Valentine's is a romantic breakfast in bed. That's because – most of the time - people don't expect something like this.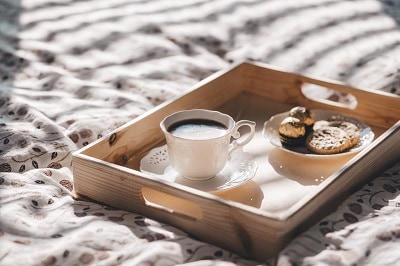 And if you take the time to personally prepare something special for your partner, they'll be all smiles. Sure, that means you'll have to wake up a bit earlier than your lover, and take care to not wake them up, but the end result will be more than worth it.
In case you're not sure what recipes to try out this Valentine's, here's a useful list of romantic ideas for breakfast in bed.
Take a Shower Together
This is an ideal way to start Valentine's – hopping into the shower with your loved one to get ready for the romance that awaits you two. Plus, it will also set the mood for the rest of the day as well!
Rest assured your partner will be more than excited when you surprise them with this gesture. If you manage to wake up a bit earlier than them, you could wake them up holding a towel and a bathrobe for them to further emphasize the mood.
Better yet, if you also want to surprise them with breakfast in bed like we previously discussed, you can do it after the shower. Thus, you can be certain this will be one morning they will never forget.
Go to the Gym Together
If you both enjoy living an active life, you're probably used to engaging in physical activity most of the week. Well, why not do something different this time around and set some time aside for a gym couple workout? It's a perfect way for you two to bond doing what you both enjoy.
Even if you don't usually go to the gym or don't have a membership, you could still just pay a one-time entrance fee – provided you know for certain this is something both of you would really enjoy doing together.
A Delightful Noon
Noon might not seem the most romantic time of the day, but that doesn't mean you should skip it. In fact, there are a couple of things you can do at noon to bring some excitement in your relationship:
A Couple's Massage
If both of your schedules are quite clear on Valentine's, you shouldn't miss the opportunity to book a couple's massage at one of your local spas or massage parlor.
It's an excellent way to unwind and relax for a bit. Not to mention it's an amazing bonding experience for a couple, and it will get both of you hyped for what's to come during the rest of the day.
A Surprise at Lunch
If you are able to take some time off from work or school, you should definitely surprise your loved one while they're at work or school on their lunch break. If you both work at the same place or go to the same school, it will be even easier to do this.
Now, you've basically got 2 options:
1. You can prepare a delicious, romantic lunch at home, which you can take with you to eat together with your partner. Alternatively, if you're in hurry, you can just pop in to leave the surprise lunch for them, and let them know you'll meet them later in the day.
2. You can take them out for a lunch downtown. A cozy bistro would work best for something like this, given that restaurants are more suited for the evening. If the weather works in your favor and it's warm outside, you could even grab a couple of sandwiches and enjoy a short picnic in a nearby park.
A Walk through the Park
You shouldn't pass up the opportunity to go for a romantic walk through your local park - if both of you are free on Valentine's, that is. It makes for a lovely experience that can be extremely relaxing.
Plus, since many people will be at work or school, you'll get to take advantage of a higher degree of privacy while you enjoy each other's company in the park.
If the weather is nice, you could even pack a small lunch and take a cozy blanket with you to set up a lovely little picnic. In case that idea appeals to you, here are some pointers to keep in mind.
A Romantic Evening
For many people, the evening is the highlight of Valentine's. Well, here's what you two could do to make the most of it:
Seeing a Movie
Going out to enjoy a movie with your sweetheart never fails. Plus, it can be reminiscent of a classic high school date. The youthful charm will definitely make you two enjoy each other even more.
Of course, you could also just watch a movie at home before going out for drinks – especially if there aren't any good movies on at your local cinema. If that's your plan, but are not sure which movie(s) to play, here are some good recommendations (#17 and #11 are our top picks, by the way).
And if you're both a bit tired and don't want to go out for the night, you could try making this Valentine's evening a full-on movie night!
A Memorable Dinner
What's Valentine's Day without a lovely dinner, right? It's like going to Paris and not visiting the Eiffel Tower.
However, that doesn't mean you can't spice the setting up a bit – make it a bit out of the ordinary so that it feels more unique, is what we're trying to say. That's an especially great idea if your partner is more on the wild side, and enjoys unique experiences.
For example, instead of a standard restaurant dinner, you could try looking for a place that lets you have dinner on its rooftop.
Here's another exciting idea you could try out – Dinner in the Sky! Though, it does depend on whether or not the company behind the event will be hosting it in your city, so please keep that in mind.
And if none of that appeals to you, you could even try enjoying your favorite take-out food in a unique setting – like the park, beach, or the zoo (the sky's the limit in this case).
Of course, if you know for sure that your partner just prefers the classic romantic dinner approach, it's completely acceptable to just make a reservation at a fancy restaurant (maybe the one where you first went on a date?) as long as you know your loved one will be happy with this.
Dining In
A Valentine's dinner isn't only restricted to a place downtown. You can also do it in the comfort of your own home or apartment. This is usually a great idea if both of you just want to relax.
If you want to make things interesting, you could try having dinner on your balcony – if you have one, of course. Alternatively, you could also try enjoying dinner on the roof or in the backyard.
Plus, if your partner has to get back home from work, just imagine how happy they will be once they walk through the door and realize how much effort you went through to prepare a romantic dinner for them.
Alternatively, if you're both home, you could try cooking together – that's always a nice bonding experience for a couple, no matter how long you've been together. If you want to make things even more fun and interesting, you could also try cooking a special dish for each other. If you're low on recipe ideas, don't worry – here's a comprehensive list of tons of Valentine's Day recipes.
A Lovely Valentine's Night
Now that the scene is set for the big night, you have to make sure it goes as amazingly as possible. After a whole day of romance and love, it's only natural to end the day on a high note – one that both of you will always remember with a smile on your faces.
Naturally, there are many ideas you can try out with this setting:
Go Out Clubbing
If you both have the energy and excitement to go out for a night of partying, have at it! We recommend taking your loved one to a more high-end club. Remember to make a reservation in advance, though. You'd be surprised how long the club lines can get on Valentine's.
Another option is to go to a club that plays a specific type of music – jazz, blues, or rockabilly, for example – which you're not very familiar with. This way, you both get to try out dancing on a new genre of music, which will definitely be tons of fun.
A Night at an Exquisite Hotel
If you've enjoyed yourself downtown the whole evening, going back home might not seem too appealing if you're both quite adventurous.
Well, if you can afford it, why not book a room at a classy hotel in the downtown area? Ideally, you should opt for a more luxurious one to emphasize how important this day is to you. This way, when you decide to call it a night, you won't need to worry about having to catch a cab to get home and all that – you'll both be free to just focus on yourselves for the rest of the night.
Bonus points if you manage to find a decent hotel that's also close to where you both work or go to school.
If you prefer more quiet surroundings, you can also opt for a hotel that's not really in the downtown area. Just make sure it's perfect for a couple celebrating Valentine's Day.
A Romantic Getaway
If you have the next day off or can afford to come into work or school later in the day, you should definitely consider enjoying a romantic getaway out of town with your partner. We're talking about renting a cabin near a lake or booking a room at a cozy, romantic guesthouse.
If you're both a bit more adventurous, and the weather permits it, you could also go camping for the night. Ending Valentine's Day than in the arms of your loved one, enjoying the sight of the starlit sky definitely sounds amazing, right?
A Valentine's Vacation
What better way to make the excitement of Valentine's Day last than to pack your bags once you get home, and prepare to elope on a memorable week-long vacation the next day? Provided both of you can afford to take time off from work or school during that period, naturally.
Still, we should mention that – if you want – you could also try going on such a vacation on the morning of this day. Basically, you could include Valentine's as the first day of your romantic trip.
We mostly focused on this topic near the end of the day since it would really work well as a way to continue your Valentine's celebration on to the next day (or – why not – a couple of days).
A Cozy but Amorous Night in
Maybe after a long day of romantic activities, you both just want to go back home and enjoy the comfort and warmth of your bed. Completely understandable, but you shouldn't really just leave it at that.
After all, just because you're going back home doesn't mean Valentine's Day has to end – you can do your part to bring the romance-infused atmosphere into your home. For instance, why not surprise your partner by sprinkling rose petals on your bed and leaving a lovely present among them?
Better yet, you could run a hot, bubbly bath while your lover is busy making themselves comfortable – you know, like a charming prelude before going to bed. Throw in a relaxing massage as well, and you're sure to seriously impress your loved one.
Best of all – if you decide to go with the in-house evening dinner, this idea will go hand in hand with it perfectly.
Overall, those are the kinds of gestures that would show your sweetheart just how much you care about them – not to mention how spontaneous and colorful your relationship is!
Looking for a Perfect Valentine's Gift to Go Along with These Activities?
We've got you covered – a gift basket, gift box, or even a gift tower would work extremely well, no matter what activity you choose to go with. You could surprise your loved one with a Valentine's Day gift basket during breakfast in bed, a movie, or while you're dining out.
And we've got just the perfect gift for this holiday – the Beloved Chocolate Photo Gift Box. The gift itself looks stunning and unique, and you can use the 5-compartment window lid to store photos of you and your partner. What a heartwarming way to show them how much they mean to you, right?
Not to mention that the gift itself comes with only the best and most appetizing treats, such as:
· Milk Chocolate Graham Crackers
· Dark Chocolate Bavarian Pretzels
· A Tasty Dark Chocolate Graham Cracker
· Brown & Haley Almond Roca
If your partner has a sweet tooth and exquisite taste, they'll definitely love munching on the contents – especially since they're from you!
Plus, you've got nothing to worry about in terms of quality. All our products are completely kosher, and we offer a 100% Satisfaction Guarantee. That means that, if for any reason, you or your loved one are not fully satisfied with your order, you can get in touch with us to receive a refund. Alternatively, we'll re-ship your order.
And in case you'd like to browse our Valentine's selection to find other gifts, here's the link.